Durham ARC had 12 entries at the British Rowing Masters Championships at the National Watersports Centre at Holme Pierrepont on June 11th and 12th, the competition returning to 2 days after last year was reduced to a single day because of Covid restrictions.
Competitors raced over a 1000 metre course against a strong and gusty headwind which made conditions very difficult. On Saturday Aisling Dutton and Gabrielle Moore started the day racing in WMasD and WMasF singles respectively, with Gabby taking second place in 6.18.5 to win a silver medal in her race, while Aisling recorded an impressive 6.02.9 for 6th place in hers. Helen McMillan then went one better, winning a gold medal in 6.12.0 in the WMasE 1x in a 6-boat race that also included Tees and Tyne United scullers. Rachel Terry continued the medal success by winning silver in the WMasC 1x in 6.05.8.
Helen was congratulated on her success by Gill Prescott and Eva Rankin who won the WMasG 2x.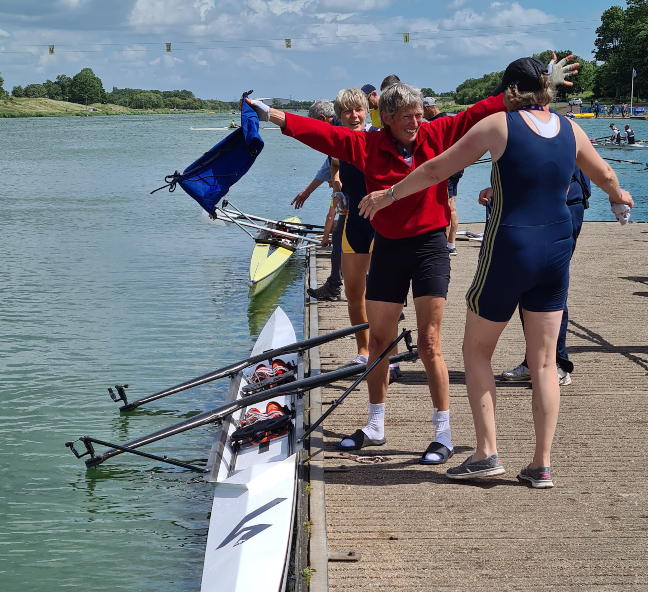 In the afternoon Andy Jaggard also took silver in the Lightweight Masters H 1x in 6.11.4. Aisling Dutton and Gabrielle Moore then combined in the WMasE 2x to take a bronze medal in a close finish with Eton Excelsior and Windermere. Kim Forster and David Muse combined in two races, finishing 5th in both the MasC 2x and Mixed MasC 2x, and Richard Court placed 4th in the Lwt MasE 1x.
John Watkinson, John Lund and Paul Rutter rowed in a Durham/Tees composite, entering as a MasF 4x- on Saturday and finishing 6th behind Norwich in a close 7-boat final after hitting a buoy. They raced again in a 4-boat final on Sunday when the wind was less strong, this time in a composite MasH 8+, getting a 9 second start in a GH race, being overtaken near the finish by a Bedford/Star Club combination but taking 2nd place for another silver medal. They are now hoping to row both crews at the World Masters Regatta in Libourne, France in September.
Completing the medal haul Gabrielle Moore joined a York/Leicester/Durham composite WMasE 8+ on Sunday and was delighted to take first place in a 3-boat final against Walbrook and Portora Boat Club from Ireland, giving her gold, silver and bronze medals for the weekend. Commenting on the conditions on Saturday she said, "I think anyone who got down the course this morning without capsizing deserves a medal!"
Two gold, four silver and one bronze medals was a good return but with bigger boats counting for more points DARC finished in 29th position out of 104 clubs in the Victor Ludorum table.

Results of all races can be found here.
Photographs are available from AllMarkOne.