Durham Amateur Rowing Club is set in a stunning location on a bend in the River Wear, opposite Pelaw Woods, and at the end of Green Lane, Durham City. There is approximately 2 kilometres of navigable river from the footbridge at Maiden Castle to the weir beyond Prebends Bridge. With many bends, several bridges (including the narrow arches of Elvet Bridge, part of the 'long course') and some steeply wooded banks, the river meanders through the heart of Durham City. It's an idyllic, if at times rather crowded stretch of water.
The 'new' clubhouse was officially opened by Roberta Blackman-Woods MP on 14th September 2007 after many years of grant-seeking, fundraising, design and re-design, and numerous planning applications – all persistently led by our long-term secretary Barry Hudson.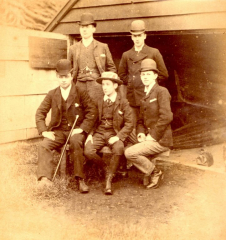 This is our third 'new' boathouse. The first 'new boathouse' was completed in 1897 at a cost of £296 on a site close to the weir, near PrebendsBridge. You could get a pair of sculling blades for that today!
The second 'new boathouse' was built in 1969/1970 on the current site, much of it by a hard-core of volunteers. For a fascinating history of the club see Barry Hudson's Club History Timeline. (including the gentleman fined in 1902, not for taking two ladies beyond Shincliffe bridge, in the early hours, which was bad enough, but for "breaking an oar and a scull", see also the 'barbers pole incident' at TalkinTarn in 1955.)
Today we have a thriving rowing club with squads of all ages. We also have developed a range of commercial interests: a caravan club; an education centre; and we have developed as a first class venue for weddings for functions and parties, and for professionally run corporate and team events
The club also hosts a Dragon Boat club, and a Powerlifting section.
We are constantly battling a number of difficulties with our stretch of river: the silting up creating dangerous shallows which require regular dredging; the increasingly common floods – (see River Webcam) needed to monitor the yoyo river level, the erosion of the river banks, and the blocking of the river by falling trees.
In 1860 the founders of the club urged "our fellow citizens who are verging on, or have passed the meridian of life, to not forget they can do good service .. as honorary members" and "active operations commenced for raising the ways and means for purchasing boats and other equipment."
Today some of our members .. well past their meridian …are still actively competing, as well as helping to run the club and seeking the 'ways and means' to buy boats
There is a constant need for new boats and equipment if our rowers are to compete at a high level and we are seeking sponsors who would be interested in partnering with the club.