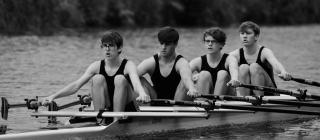 The Junior Squads at Durham Amateur Rowing Club are a friendly bunch aged between 11 and 18, we meet for training up to 6 days a week depending on your age.
The Squads are split into two groups with Mark Bell, Debbie Connolly and Ray Peacock coaching and organizing the J11-J15 Squads, while Alan Granlund, Bill Parker, Fred Snowden, Vickie Jackson, and Gordon Beattie coach and organize the J16-J18 Squads. This split group method of coaching ensures that the correct level of coaching is given to the relevant age group. We also have a community rowing group for those not quite ready to enter the squad system who train on Sunday afternoons.
There are currently over 70 junior members at DARC, all from a variety of schools and colleges.
We attend local regattas from April to July and Head (long-distance) races in the winter, as well as national events throughout the year, such as the Junior inter-regional Regatta in Nottingham and the Schools Head of the River in London.
Parents of the junior rowers are always encouraged to get involved in anything from spotting on the riverbank to helping with social events. You might even get talking to the older generation and start rowing yourself! (Other parents have done this, and seem to be enjoying themselves)
Major achievements in this season include;
73rd at Women's Head of the River (the highest place a Womens crew from DARC has ever achieved)
2 crews making the A Final at National Championships.
Hope Cessford being selected to represent GB at Junior Worlds in Rotterdam.
A strong representation going down to National Schools, the first time we have raced an Octuple at a National Event.
A haul of medals from various local Regattas.
The plan for this coming season is to continue to build on last year and improve on the number of wins the junior section has recorded so far.
If you would like to know more about the junior section please contact us via email: juniors@durham-arc.org.uk. Or call in on a training session:
Monday – Thursday: 16:00 – 18:00
Saturday and Sunday: 8:00 – 11:00
Information that could be useful to you about rowing can be found on the British Rowing Website: www.britishrowing.org
The Rowsafe document produced by British Rowing can be found here: https://www.britishrowing.org/about-us/policies-guidance/rowsafe/Edit