After 6 months without competition fifteen scullers from Duham ARC were among 111 starters in the Tyne Single Scullers Head on Sunday September 20th. Organised by Newcastle University Boat Club the time trial was contested in 3 divisions each over 3000 metres of the River Tyne between Blaydon and Newburn. The event was chosen as a test competition to allow British Rowing to further develop its Return to Rowing guidance amid the Covid-19 pandemic.
Special dispensation from the Competitions Committee allowed it to go ahead with more than the four clubs usually stipulated for a private match, and DARC was delighted to be one of 15 invited to send entries. Sponsored by Rock the Boat the emphasis was on demonstrating compliance with Covid-19 guidance, which was achieved admirably thanks to huge efforts by the organisers and volunteers.
Conditions on the day were excellent for sculling and feedback from those taking part was very positive with agreement that everyone felt very safe and that care was outstanding for athletes, coaches and everyone in between.
Victories went to Andy Jaggard in the MastersG 1x in division 2, and to Luke Davison who was fastest of 5 DARC J15 scullers entered in division 3. Others will be pleased with their performances which also included a second place for Miriam Stewart in the J17 girls 1x. On this occasion though the joy was not in the winning but in the taking part.
Inspiring the next generation and first to finish in division 1 was Matt Brigham of University of Leeds Boat Club, better known for his legendary success against Olympic champion Mahe Drysdale in the Diamond Sculls at Henley last year (video here).
Results and photos can be found on the NUBC website.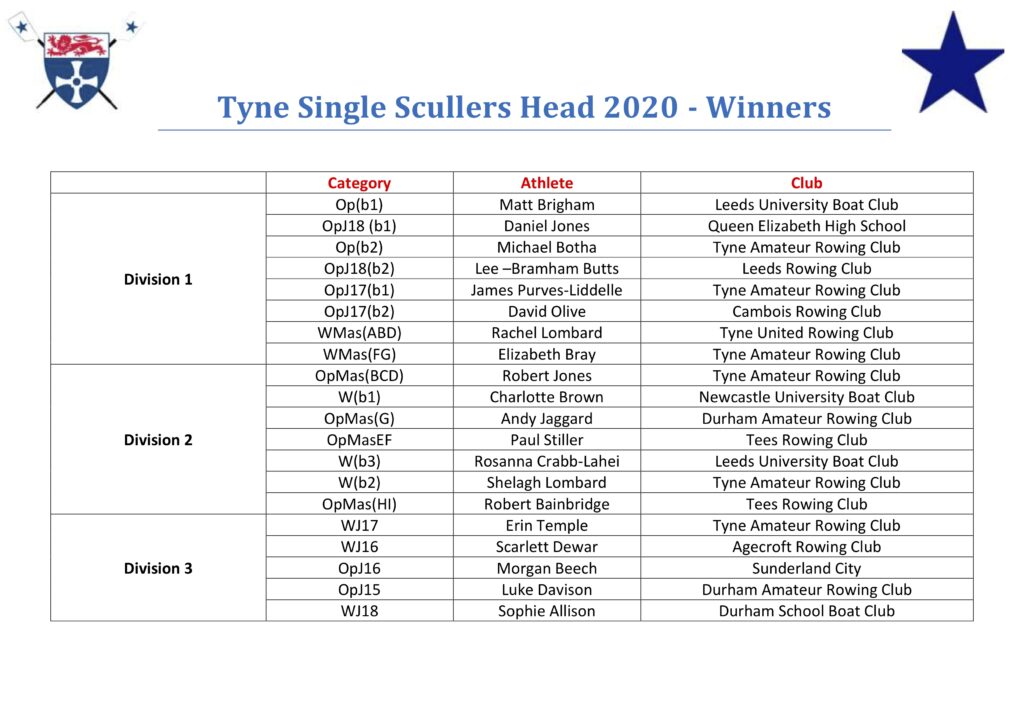 British Rowing will review feedback and determine the way forward as regards the return to competition. The next competition scheduled in the Northern Rowing calendar is the Long Distance Sculling Series due to start on October 10th.