We have had confirmation that the river will be closed under New Elvet Bridge from September 1st to September 30th 2020. All rowers will therefore have to turn after Baths Bridge and will not be allowed to proceed any further. There may be days where we can row through Elvet Bridge but we are not sure yet. We will keep club members informed as and when we receive information. With us being restricted to a small stretch of river, we all need to follow the rules of the river and be aware of others rowing.
Everyone should be turning after Baths Bridge and by the DARC landing stage (be aware of boats launching off our landing stage). Communicate with others on the river and work together if people wish to do pieces etc. Coaches should ensure that their squads are following the rules of the river. If there are any problems please email captain@durham-arc.org.uk.
Balfour Beatty are carrying out major repairs to New Elvet Bridge which will take approximately 14 months. A Durham County Council video provides an overview of the project. Details about the work including traffic diversions can be found on the Durham County Council website.
Further periods of closure will be necessary over the coming year. Provisonal dates are as follows.
Install access cradles – 1st Sep – 30th Sep 2020
Bridge lift – 26th Oct – 29th Oct 2020
Remove platform 3 – 12th Jan – 25th Jan 2021
Lower Bridge – 19th May – 24th May 2021
Alter platform – 16th June – 26th June 2021
Remove platform 2 – 20th Aug – 26th Aug 2021
Remove platform 1 – 8th Sep -14th Sep 2021
The above dates are subject to change as the project progresses.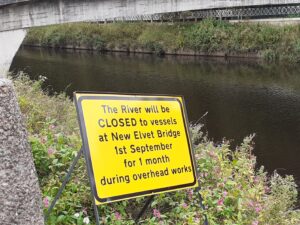 The County Council website states that 'Excepting the above operations smaller craft such as rowers and Browns Boathouse hire boats will still be able to pass beneath the bridge whilst work is ongoing.'
Due to the reduced headroom the Prince Bishop cruiser will be unable to pass beneath the bridge until approx June 2021.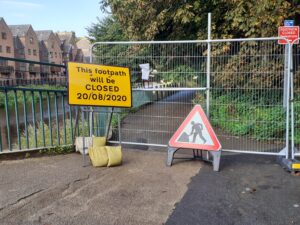 The riverside towpath is now closed and will remain so until approximately October 2021.
Structural weaknesses to Baths Bridge have also been identified. Pedestrians crossing the bridge should therefore observe social distancing restrictions and cyclists should dismount.