Roger Stainforth may have been Durham ARC's only representative at the 2019 Mizuno British Rowing Indoor Championships (BRIC), officially the largest indoor rowing event in the world, but he returned triumphant with a gold medal and a British record in the Masters age 75-79 heavyweight 2km event!
On Saturday December 7th over 1,800 competitors took to rowing machines at the Lee Valley Velopark, home to the 2012 London Olympic cycling events. There were over 2,300 entries across 140 events, with athletes from as young as 11 right up to age 88 racing in front of a sell-out crowd.
Since turning 75 in September it was the second occasion that Roger had lowered the British record, having broken the previous mark that had stood for 11 years at the Scottish Rowing Indoor Championships 2 weeks earlier, his time of 7m 25.2s at BRIC on Saturday being 4.5 seconds quicker. A total of 3 World records, 10 British records and 62 Championship records fell at the event, including many in adaptive and masters categories. Results from all categories can be found here.
This year was the fifth occasion since being re-branded as BRIC that the Championships has been held at the Velopark and Roger has won his event at all 5! The 70-74 age record of 7.08.7 which he set at the February 2015 British Championships still stands.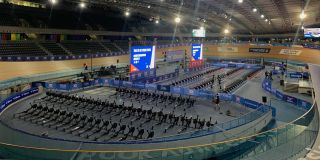 "The atmosphere in the velodrome is inspiring. there are pictures of the British Olympic cyclists around the corridor as you walk to the competition area, it's wonderful to think that the likes of Chris Hoy, Wiggins, Cavendish, Pendleton etc have trod the same route to glory!" he observed.
BRIC attracts athletes of all abilities and from around the world. One of the highlights was Olympic Champion Eric Murray of New Zealand taking part in the Mixed 4km relay with a wild card team drawn from all the competitors entered on the day. "BRIC is such an iconic event worldwide, it's great to be able to come here, share a bit of advice, talk to people and just experience what it's all about," he said.
Very happy with Saturday's performance, Roger predicted "I'm confident my race training is bearing fruit and I hope to go even quicker at the next event in Manchester – the English Indoor Rowing Championships on February 2nd 2020".
Roger only took up rowing after his 60th birthday, the motivation for taking up the sport at an advanced stage of life being provided by his daughter Rebekah taking it up, closely followed by wife Hazel, herself now a former world masters gold medallist and record holder on the water. Since then he has been a great ambassador for the indoor version of the sport, winning many times at national championships, including victories at the Scottish, Welsh, Irish and British Championships in the 2017-18 season, but has only ventured on to the water for one year, in 2016 forming a successful partnership with Martyn Calkin, the pair winning the Novice Masters F double sculls at the National Masters Championships in Nottingham.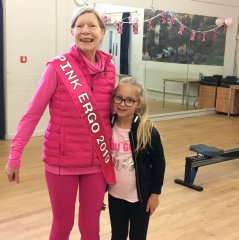 Last year was a difficult one as Hazel was undergoing treatment after being diagnosed with breast cancer. In March 2019 Roger organized a 100km
Big Pink Ergo Challenge
which raised over £770 for breast cancer charities.
Meanwhile Hazel has made an excellent recovery, returning to competition with the Women's Masters G coxless quad, and winning races in the Long Distance Sculling Series on the Tees and Tyne.