The 40th anniversary Allcomers Regatta on July 14th attracted the largest entry in recent years as interest in taking part in rowing in Durham continues. After four coached sessions crews from the local community who had never raced before lined up in stable coxed fours to race against each other in a series of round robin races over a 200 metre course, Twenty crews contested 40 races in the event sponsored by Workwear Express with medals being presented to winners and runners-up in men's, women's and mixed divisions.
After 4 races per crew and 5 hours of exciting competition the men's division finished with The Chicken Skins tied on 4 wins apiece with Row Hard or Row Home. A race-off between the two resulted in a win for The Chicken Skins.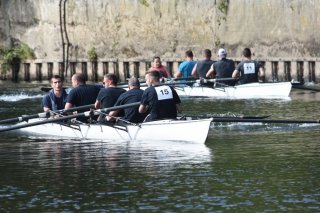 Winners in the women's division were Crazy Ladies, expertly coached by Clive Hole, with a maximum 4 wins. Team Ginspiration were runners-up with 3 wins.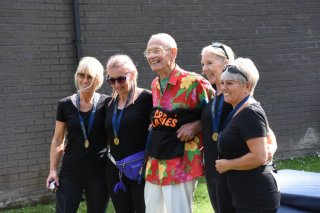 In the mixed division Oarsome Coresome won all their races to hold off Team Fausto.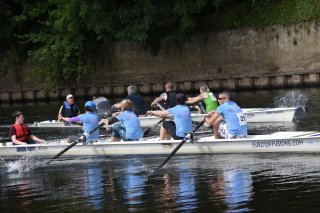 As well as competitors a busy day was enjoyed by the healthy gathering of supporters, with the bar, BBQ and bankside activities doing a roaring trade.
"A brilliant day all round!" declared Sean Barry of IN-SINK.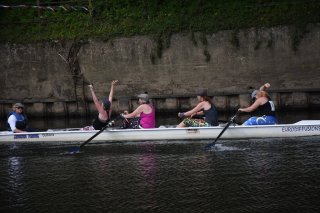 Team scores were as follows
Women's teams
Crazy Ladies 4
Team Ginspiration 3
Meddlesome Milly 2
Slummy Mummies 2
Teaky Blinders 2
Aboat Time 2
Striders and Gliders 0
Men's teams
The Chicken Skins 5
Row Hard or Row Home 4
The Deciboat 3
The Oarsome Foursome 2
Guns and Rowses 2
Control Heads 2
Crossfit DHM Blue 1
Design Nerds 0
Mixed teams
Oarsome Coresome 4
Team Fausto 3
IN-SINK 2
The Waders 1
Private Pike's Pirates 0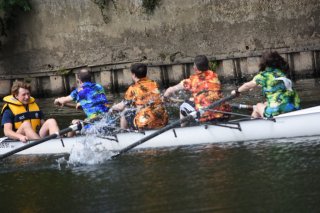 Many thanks to the coaches and coxes, staff and volunteers whose efforts were key to the success of the day.
More photos here.
The Allcomers Regatta developed from an informal regatta organised as a special event for Durham sports clubs in 1979 as part of the Durham City 800 celebrations. It has continued to take place annually since then.