DARC had an excellent return of 9 wins from Tees Regatta on May 18th, plus 3 second place finishes on the 4-lane 850 metre buoyed course, while other crews performed well in battling through semi-finals.
The Juniors did very well as they build up towards the National Schools' Regatta at Eton Dorney next weekend. For the second week running the J15 girls won the Women's 8+, this time against senior opposition from Leeds University, Teesside University and the host club Tees RC. Adam Morris had a successful day winning his semi-final in the J18 single sculls then holding off the Tees RC sculler to win the final by 2 lengths. A further win came from the J16 girls in the coxless quad.
There was a good win for the senior men in the Open 4+, and John Roxborough and Dan Pearson repeated their success of last year in the Open pair, while the senior women's coxed quad of Emily Hanscam, Hannah Gravatt, Clarissa Cahill, Vickie Sincock and cox Millie McIntyre recorded their first success of the season.
Gabrielle Maxfield and Grace Stewart-Piercy won their semi-final in band 1 of the Women's double but had to settle for second place behind Tees RC in the final, while Nicholas Baird and David Rutter won through to the final of the Open 2x but lost out in a close finish between all four crews in the final.
Rob Coe and Martyn Calkin won the MasE 2x. Clare Woodward, Gabrielle Moore, Aisling Dutton and Susan Jackson won the WMasD 4x-, and the Women's Masters E 8+ won their race against Tees RC.
Full results are on the Tees Regatta page.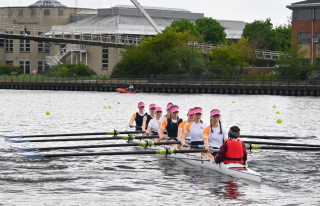 DARC has four
entries
in the National Schools' Regatta on May 24th to 26th.
The J15 boys 4x+ (Lewis Davison, Thomas Crabtree, Jacob Windle, Ellis Black and cox Thomas Woods) is one of 60 in time trial for the Creber Cup at 10am on Friday. The fastest 18 qualify for the semi-finals on Friday afternoon.
The J14 girls 4x+ (Jennifer Napora, Tilly Stoddart, Libby Morris, Orlagh Windle and cox Francesca Suggett) is one of 50 in the time trial for the Hunter Cup at 12.30pm on Friday.
The J15 girls 8+ (Amy Slater, Lydia Kind, Niamh Lang, Ruby Coe, Anna Airey, Georgia Powell, Miriam Stewart, Alice Davies and cox Eve Rich) go in the King and Picton Goblet at 8.20am on Saturday, and Adam Morris is one of 66 scullers in the Championship 1x for the Sculls Cup at 9.30am on Sunday.
A full list of entries and results can be found on the Time Team website.
The next regatta in the northern region is Wansbeck on May 25th.