Durham ARC hosted the sixth round of the Explore Series on Sunday August 5th 2018, welcoming crews representing clubs from across the Northern region to race over a 250 metre course in this popular competition for novice rowers, now in its 7th season.
DARC fielded entries in the open and women's competitions, taking on opposition from Hexham, Tees, Tynemouth, Tyne United, Tyne ARC and Berwick in a series of round robin races using the stable Explore fours, this being the first sweep-oar round of this year's league.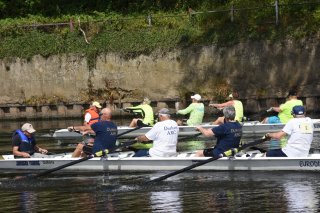 The open crew of Andrew, Christine, Gerry and Stewart, coxed by Brian Freeman, won two of their 4 races, while Linda, Denise, Gillian, Margaret and Maureen, coxed by Dave Green, won one out of 3 in the women's league.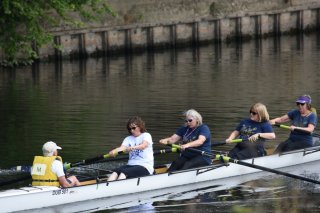 The only incident of note came in the very first race when a restart was required following a collision between the 2 leading crews, the aptly named Barcing Mad from Berwick ARC and Wreckless from Tees RC.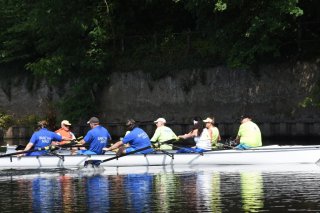 After completing 16 races victory in the open league was shared between Barcing Mad and Tynemouth Buoys with 3 wins each, while Tyne of your Life, representing Tyne ARC and TURC Ducks from Tyne United fought it out in the women's league, each winning 2 of their races. Berwick thus retain top spot in the open series and Tyne United stay top in the women's overall, with two rounds remaining at Hexham on September 2nd and Tyne ARC on October 7th. New teams are welcome to join the competition. Entry conditions can be found on the
Northern Rowing
website.
More photos on facebook.
Fine weather meant we could take advantage of the marquee for outdoor refreshments with drinks and plentiful supplies of cakes and bacon sandwiches available throughout the afternoon for the watching spectators, with around 80 competitors and visitors being entertained by members of the club's squad of daytime rowers.
It has been a busy week for the daytime rowers, following on from their efforts in organising a visit to the club by 120 members of local walking groups last Tuesday lunchtime for their annual BBQ and quiz.