Durham ARC's Juniors squad had a successful weekend at Nottingham's National Watersports Centre for the 2018 British Rowing Junior Championships on July 20th to 22nd. The club entered for the omnium in the girls J14 single sculls and in the J14 girls coxed quad on Friday, and in the J16 and J18 boys' single sculls on Saturday as well as in a composite crew with Tyne ARC in the J15 girls' coxed quad.
Overall 1379 junior rowers from clubs across the UK took part over the three days, starting with 167 singles and 107 doubles in an omnium competition for J14 scullers on Friday, with skills exercises including hands off at the catch, 360 degree spin, standing rigger dips, sequencing, roll ups and back down stop, before finishing with a race over 500 metres. Saturday and Sunday were reserved for time trials, semi-finals and finals for the J15 to J18 competitors.
The best performance from DARC came from Adam Morris (above) who clinched 7th position in Saturday's time trial with a time of 5.50.6 for the 1500 metres to go into Sunday's semi-finals of the J16 single sculls. With an excellent scull Adam completed the 2km semi-final in 8.17.8, holding off his opponent from George Watson's College to take second place and secure a place in the A final in which he went on to finish 6th overall.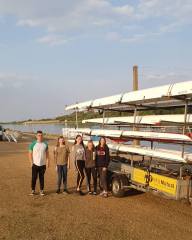 The J14 girls coxed quad of Georgia Abbott, Ruby Coe, Niamh Lang and Amy Slater, coxed by Libby Morris, finished 28
th
out of 36 entries in Friday morning's 1000 metre time trial, qualifying them for the E final. Much of the day was then devoted to the omnium in which each crew member took part individually in a single, before they combined again for the 4x+ finals in which a 2
nd
place finish in the E final ranked them 26
th
overall.
On Saturday Aidan Crilley finished 37th in the J18 1x time trial but failed to qualify for the finals. Ella Sampson and Madlyn Elmer competed in a DARC/Tyne ARC composite J15 girls' coxed quad where 18th position in the time trial gave them a place in the C final in which they went on to finish 3rd (15th overall) with a time of 8.29.82 for the 2000 metre course.
A complete list of results and an event report can be found on the Junior Championships website.