Jo Beverley of the Stroke Association visited Durham ARC on Monday to join members of the club's daytime rowing group for coffee and to receive funds donated. The group took part recently in the Great Tyne Row in aid of the Stroke Association, raising £1572 for the charity.
The Club entered 3 stable coxed quads in the event on September 2nd, a 25km challenge on the River Tyne starting from Newburn and finishing on the beach at Tynemouth.
The 15 crew members chose to support the Stroke Association as two of the participants had previously had strokes and rowing has helped with their recovery.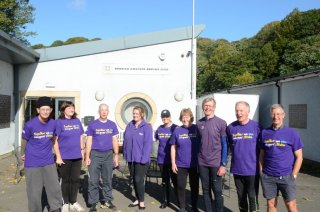 To further raise awareness the 3 teams adopted names with stroke connotations, '30 strokes a minute' and 'The F.A.S.T crew' completing the 25km in an identical time of 2 hours 13 minutes, and 'Stroke 'n' Recovery' finishing in 2 hours 51 minutes.
Crew members are pictured above with one of the boats preparing for the event and with Jo Beverley on her visit to the club.