Seventeen teams took part in Durham ARC's Allcomers Regatta on September 24th, the best entry for several years. Numbers were boosted by 3 teams who had travelled from Whitby for the occasion.
Five men's teams, five mixed and 7 women's teams contested a total of 34 races over a 300 metre course on a round robin basis. The crews from Whitby Friendship Rowing Club performed well, winning most of their races, but as they were classed as experienced rowers they were ineligible for prizes even though their experience was of fixed seat rather than sliding seat rowing.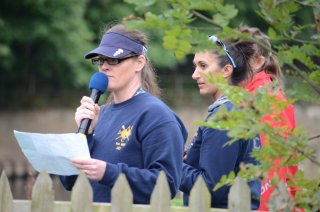 Waterboys won the men's competition, The Square Blades won the mixed competition, and Ladies who Launch took the accolades in the women's competition, holding off Wannabe Wags in an ergo relay tie breaker.
Other attractions were available to entertain a healthy gathering of spectators, including a BBQ and Pimms stall. Winners of the ergo challenge were James Kendrew for men, Annabel Sholey for women and Steven Curtis for juniors.