The final round of the 2017 Explore Series took place at Tyne United on October 1st. It was a successful day for DARC with the women's crew 'A Shot in the Darc' (Alison Shepherd, Sue Lyons, Jane Auster, Kalpana Ganatra and Margaret Richardson) winning all four of their races to clinch top place with 50 points in the women's league, while Wear Well Away (Colin Lawson, Vaughan Gordon, Chris Merchant, Steve Auster and Dave Green) won 3 races to finish as runners-up in the Open league on 46, 4 points behind Hexham who have led all season.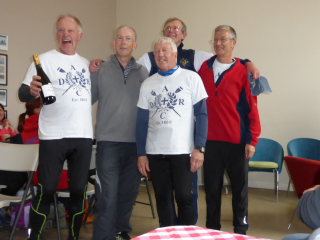 Despite being on half points for the round Green Shoots (Zuzanna Swirad, Paddy Deans, Linda James, Alison Hoare, Maureen Miller, Louise Forster and Kate Wicks) secured 2 points, enabling them to take fourth place by half a point in the women's league.
A total of 37 teams from 10 different clubs have taken part this year, the second successive year in which a DARC Women's team has won the league. This concluded the sixth season of the Series which started as the Sunday League in 2012. The competition is for novice, recreational and returning rowers and retired racers.