As we reach the midway point of the northern regatta season with Wansbeck Regatta this weekend it's worth reflecting on the state of play of British Rowing's revised Competition Framework.
There has been a 50/50 split between those regattas adopting the old system and new system, including some in the fortunate position to be able to host a day of each. Chester-le-Street and Durham City (Sunday) were bold and embraced the new ranking index system, Wansbeck and Talkin Tarn have declared their hand and will follow suit. Tees and Durham City (Saturday) chose the cautious approach, adopting the old points system. Hexham will do likewise on June 3rd.
Tyne Regatta also decided to play safe by sticking with the old BROE system, only to find entries in short supply and cancellation unavoidable. The reasons are unclear – many events with few entries in each was a determining factor.
Durham Regatta is also hedging its bets by adopting the old system on June 10th and the new one on June 11th.
Feedback suggests that in the regattas so far staged there has been a full entry and a successful outcome. Indeed Chester-le-Street enjoyed one of its best turnouts ever. One of the aims of the Ranking Index approach is to ensure closer racing for all competitors. Scrutiny of winning margins from published results may offer some insight. As an example, 102 out of 262 i.e. 39% of races on the Saturday of Durham City Regatta (old system) returned a winning margin of 'easily' whereas on the Sunday (new system) there were 18 'easily' verdicts from 84 races (21%). Closer inspection of a larger sample of data may be necessary to ascertain the extent to which the objective has been achieved.
Come April 2018 every event will run under the new competition framework. We await developments with interest.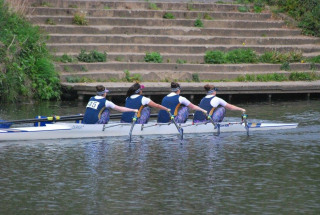 One section of DARC enjoying a revival of fortunes is the Senior squad, with the men's and women's squads recently combining under the guidance of Phill Tully, the women's elite coxless quad (Liz Law, Taya Parker, Alison Danforth and Beth Holmes) gaining two victories at Durham City and notably the women's IM3 coxed quad (Emma Lyons, Ruth Hodges, Emily Hanscam/Taya Parker, Michelle Joubert and cox Christie Lau) winning at both Durham City and Tees Regattas, the same crew devastated after the incident on March 14
th
when a block of concrete was dropped on their boat, Peter Burdess, as it passed under Baths Bridge, attracting considerable
media interest
, and causing what was thought at the time to be
irreparable damage
. Thankfully this was not the case, the crew remained unscathed, and crew and boat were reunited with more positive impact at the two events.
The men's IM3 coxed quad (Tom Maddick, Joe Owen, Nick Baird, Reece Stockport and cox Becky Jackson) also tasted victory at Durham City Regatta and there was a further win for Ruth Hodges and Emily Hanscam in a double scull at Chester-le-Street.