After 2 years of intensive training with the Great Britain Junior Squad Hope Cessford is making excellent progress, taking part recently in the European Junior Championships in Germany. This follows a successful 2016 during which Hope represented Durham ARC in the Women's Eights Head of the River Race and at Henley Women's Regatta, before Hope and Lauren Irwin (Chester-le-Street ARC) won at the Metropolitan Regatta at Eton Dorney and in the Elite Women's Pair at Durham Regatta (above). The pair then went on to represent Great Britain for the first time at the World Junior Championships in Rotterdam last August.
Hope is the Northern Region's only representative in a 32-strong GB Juniors squad announced recently. When not with the GB squad she is coached in Durham by Gordon Beattie.
On Saturday May 6th the GB Women's coxless 4 of Ella Morgan (Henley RC), Mary Wright (Henley RC), Hope Cessford (Durham ARC) and Flo Donald (Lea RC) finished 2nd in heat 2 at the Munich DRV Junior International Regatta, 2 seconds behind winners Germany in 7.30.64, qualifying for the A final on Sunday May 7th where they finished 5th in 7.30.52 behind four German crews. Also on Sunday Hope and Flo were 2nd in 7.48.18 in the heat of the Women's Pair, two seconds behind the other GB pair of Ella Morgan and Mary Wright from Henley before conditions led to curtailment of racing.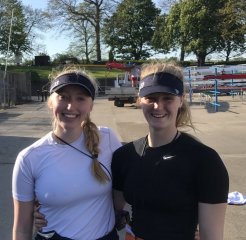 Great Britain then sent a small squad to the
European Rowing Junior Championships
in Krefeld, Germany on May 20
th
and 21
st
, including Hope and Flo Donald of Lea RC, who qualified in 2nd place in
heat 2
of the Women's Pair behind eventual champions Romania in a time of 8.00.25. In the second
semi-final
the GB pair finished 2nd to Germany in 7.47.57, a result that put them into the
A final
on Sunday where they finished 5th in 7.56.32. Full results can be found
here
.
Krefeld is a new venue for international regattas and the European Junior Championships is a relatively new event introduced in 2011 but entries continue to grow, with this year's regatta attracting 532 athletes from 33 nations.
The World Rowing Junior Championships take place this year at Trakai, Lithuania on August 2nd to 6th.