There were 5 wins for Durham ARC at the Yorkshire Head on Saturday March 11th, the Masters F eight taking the accolades in division 1, posting the 15th fastest time out of over 200 crews contesting the 2 divisions, and the 9th fastest time (17.28.9) after applying the masters age category handicap adjustment. Division 1 also saw wins for the J18 girls eight and the Mixed double of Kim Forster and David Muse.
A prestigious event hosted by York City Rowing Club the Head takes place over 5km on the River Ouse and attracts entries from across the Northern and Yorkshire regions as well as from further afield. It is the main source of income for the Yorkshire Rowing Council and is run by volunteers representing clubs from across the Yorkshire region.
In division 2 there were wins for the Women's Masters D coxless quad of Gill Prescott, Helen McMillan, Eva Rankine and Hilary Cairns (Berwick ARC), and for Andy Jaggard in the Masters G single sculls.
Other DARC competitors included the J18 4x-, Women's Senior 8+, Women's Masters D 4+, Women's Masters G 1x, Women's Masters D 8+, J16 2x, J17 2x and Senior 1x.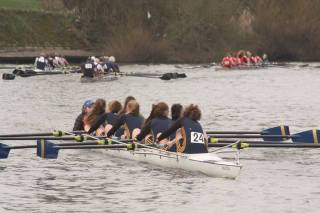 The event was one of the first to be staged under the new British Rowing
Competition Framework
, using the revised Online Entry system being phased in this year. Under the new framework competitors entering in the Senior band are grouped in accordance with accumulated
Ranking Index
points to enable grouping into categories such as Senior, Intermediate and Beginner to ensure fairer competition. In a head race Ranking Index points are accumulated according to the number of crews beaten. Juniors and Masters continue to compete in age group categories.
Race documents including final results are on the Yorkshire Rowing website. Professional photographs are available from Richard Sharpe.