The 6th year of the Northern Explore Series got off to a rather uncertain start at Hexham on Sunday March 5th, the previous day's rising water level on the Tyne causing some concern. After 2 safety inspections and a hastily prepared contingency plan of moving to another venue the go-ahead was finally given by the Hexham safety advisor on Sunday morning, much to the relief of the 17 teams taking part.
The sun shone and rowers from 8 clubs convened on Tyne Green, with Gateshead Community Rowing Club making their first sortie. After welcoming new and old to the fray racing commenced at noon over a 250m course with novice crews sharing four stable quads, two provided by Talkin Tarn and two by the host club. Progress was hampered by the difficult boating conditions, meaning that the number of races was reduced to 3 each as opposed to the more usual 4, to meet the stipulated 4pm finish time.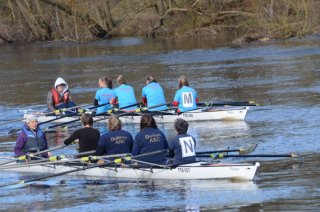 As a result
of the first of the 8 scheduled rounds all is still to play for. Four teams head the league table in the Open category, Hexham, Tyne ARC, Tyne United and Tynemouth winning all their races to lead on 6 points. Clear leaders with 6 points in the Women's category are 'A Shot in the Darc' (Jane Auster, Sonny Shepherd, Kalpana Ganatra, Sue Lyons and Margaret Richardson) from Durham ARC, closely followed by teams from Hexham, Talkin Tarn and Tyne ARC on 5.
Cakes and bacon sandwiches were consumed in quantity, raffle prizes collected and everyone, winners and losers alike, went home happy. The format has much to its credit not least that it doesn't rely on the deployment of boat trailers from far and wide. The event is open to new rowers, recreational rowers, returning rowers and retired racers. For more on the format see Northern Rowing website.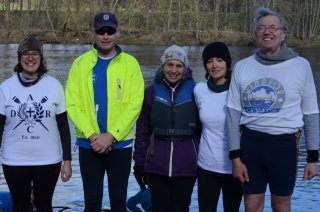 The next round takes at Durham on April 2
nd
(the day of the University Boat Races) with the Explore Series races starting at 11am. To mark the occasion DARC is holding a
Boat Race Party
from 3pm to which all are invited. Refreshments comprising sandwiches, coleslaw and roast potatoes will be provided at a cost of £5 with live TV coverage of the Boat Races in the main hall, the women's race starting at 4.35pm and the men's at 5.35pm. The bar will be open and there will be a sweepstake at £1 per guess to predict the winning time.