This year's 50th anniversary Rutherford Head proved to be the most popular to date with entries suspended 2 weeks before the official closing date. Named after its founding body Rutherford College (the forerunner of Northumbria University) the Head effectively marks the start of the winter racing season. Come November 26th a calm, sunny but cold day saw 120 crews take to the Tyne for the morning division and 130 for the afternoon.
With the BUCS Fours and Eights Head scheduled for the second consecutive year on the same Championship course in February 2017 there was a large entry from Universities and Colleges as far afield as London and Aberdeen, with Edinburgh, Durham and Newcastle Universities once again contesting the main prizes. Agecroft and City of Cambridge Rowing Clubs were also well represented.
Durham ARC entered 12 crews, three in the morning and nine in the afternoon.
The J17 boys' coxless quad (Harry Coe, Josh Stephenson, Matthew Skinner and Matthew Edge) had to step up to J18 and finished 3rd, 36 seconds behind the winners from St Leonards.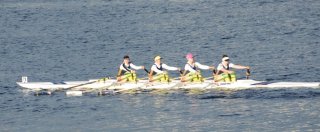 The J16 girls (Alex Roberts, Abby Burke, Izzy Wilkinson, Georgia Murphy, Elise Goddard, Bethan Hall, Alannah Baldwin, Katie Strangward and cox Becky Jackson) also had to make the step up to J18 for their first race of the season, but comfortably beat their opposition from Queen Elizabeth High School, finishing 1 min 25 seconds ahead.
The plan was for the J15 girls to have their first race in an eight, stepping up to race novice against university crews. Unfortunately, illness continued to confound plans, and it was a real team effort, with Junior Co-ordinator Vickie Jackson and senior women's squad member Olivia Brown joining Nicola Field and Linda Forwood from the masters women, all willingly subbing in. The odds seemed to be stacked against them but they all pulled together and the crew of Catherine Musgrave, Nicola Field, Millie McIntyre, Linda Forwood, Olivia Brown, Gabby Suggett, Vickie Jackson, Jess Cooper and cox Lily Sanderson ended up with a fantastic second place and were only 5.5 seconds behind the winners from Edinburgh University. They comfortably beat the rest of the opposition which included crews from Glasgow University, University College London, a second Edinburgh University crew, Aberdeen University and St Cuthbert's College.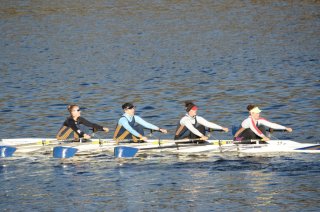 The Senior Women had two coxless quads in the morning division with the IM3 crew (Fi Ashton, Heather Tosley, Kate Sowden and Claire Adams) completing the 5 kilometres seven seconds faster than the Elite quad (Beth Holmes, Alison Danforth, Becky Chilcott and Olivia Brown), and close behind a mixed Masters C quad comprising Carole McCarthy, Gary McCarthy, Kim Forster and David Muse.
Joyce Collett took part in both divisions, joining a Tyne United composite Women's IM3 coxed quad in the morning and then a DARC Open IM3 quad including Gabrielle Moore, Kim Forster and Hazel Stainforth, coxed by Nigel van Zwanenberg, the afternoon crew posting the slower time, completing the course in 21 min 38 sec, one second behind the Women's Masters C coxless quad of Carole McCarthy, also taking part in both divisions, this time joined by June Davison, Aisling Dutton and Susan Jackson.
Gill Prescott and Helen McMillan's Berwick composite quad finished the afternoon division the faster of two Women's Masters D crews in 20 min 06 sec.
The masters men entered a Masters C eight (Stephen Kay, Jim Mathewson, Norman MacLeod, Joris de Henau, John Liddell, Roger Stainforth, Marshall Knoderbane and Peter Robinson, coxed by Nikki Tough) in the afternoon, finishing in 19 min 28 sec, 1 min 13 sec behind a Durham/Cambois/Berwick Masters D composite eight. The Senior men's IM2 coxless quad (Brad Knights, Tom Maddick, David Muse and Elliot Kay) finished in 18 min 31 sec.
Results are on the Tyne ARC website.
Al Johnston's photos from division 2.