Heavy rain during the week raised concerns about prospects for York Small Boats Head but come the day autumn sunshine prevailed allowing all 3 divisions to go ahead as planned over 3km on the River Ouse on Sunday, November 20th. Durham ARC had 20 entries from a range of squads and 6 wins were secured.
The Juniors had a good day. The J17 boys' quad (Harry Coe, Josh Stephenson, Matthew Skinner and Matthew Edge) comfortably beat local club York City, but finished second to a strong crew from Warrington RC. They then entered at IM3 level, again finishing second, this time out of 9 crews.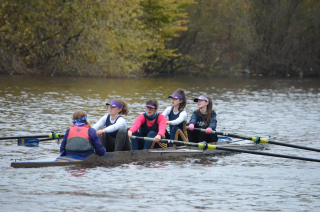 The J15 girls quad (Honor Cessford, Mollie Coe, Jess Cooper, Catherine Musgarve and cox Lily Sanderson) won their event by 20 seconds, beating two York City crews.
The J15 boys double of Mark Humphries and Adam Morris, taking part in only their second race, finished first out of five crews, beating the second placed crew by 37 seconds.
The J14 girls (Elicia Baldwin, Zara Gilbert, Charlotte Payne, Madeline Elmer and cox Freya Court) had a convincing win finishing first out of five crews and 1 minute 13 seconds ahead of the second placed crew from Yarm School.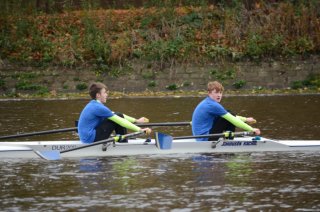 The J15 girls (Honor Cessford, Catherine Musgrave, Kate Henderson, Pardis Farahi and cox Lottie Craven) gained their first sweep racing experience, racing as WJ16 4+ and finished second to an experienced Yarm School crew, who had represented the Northern region at the Junior Inter-Regionals last year.
The Women's Novice 4+ was depleted by illness and injury, with cox Lily Sanderson and Junior Co-ordinator Vickie Jackson joining the crew at the last minute, enabling them to finish 11th out of 15 adult crews.
For the Seniors Emily Hanscam secured her first win in the Novice single sculls overcoming scullers from Leeds and Sheffield City by 30 seconds.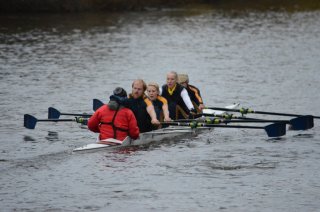 In the Masters Gill Prescott and Eva Rankin won the Women's Masters E 2x. Owing to a substitution for a late illness casualty the Women's Masters D 4x+ switched category to Open Masters D 4x+ and won with the crew of David Muse, Kim Forster, Gabrielle Moore and Joyce Collett coxed by Nigel van Zwanenberg. Roger Stainforth and Martyn Calkin entered as a Masters F 2x but were unable to emulate their success at this year's National Masters Regatta, finishing 6
th
behind Guy Fawkes RC.
See York City website for results.
Photos on facebook.