After the cancellation of the Talkin Tarn round of the Explore Series in August because of a forecast of strong winds the penultimate of the 8 rounds went ahead at the sumptuously refurbished Tyne Amateur Rowing Club on Sunday September 4th.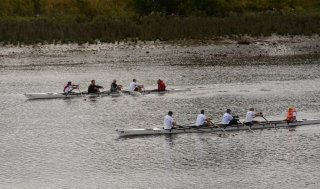 A late start saw crews waiting for the tide to come in and the sun to come out before racing got underway at 1.30pm. It turned out to be a very successful day for Durham ARC teams, with DARC Green (Linda Forwood, Aisling Dutton, Julie Kitson and Paddy Deans) winning all 4 of their races to move into an unassailable lead in the Women's league with one round remaining. They hold a lead of 6 and a half points over second placed Wear Here, also from Durham ARC, who were unable to take part on this occasion. Wear Past It (Colin Lawson, Vaughan Gordon, Chris Merchant, Dave Green and Steve Auster) put in a season's best performance, winning their 4 races and remaining in 2
nd
place in the Open league 2 points behind Fog on the Tyne from the host club who were also unbeaten on the day, setting up an exciting prospect for the grand finale at Durham ARC on October 2
nd
. See the
league table
for the points breakdown from each round. Thanks to Caroline Scholl, Steve Auster and Dave Green for between them coxing the three DARC crews and to all at Tyne ARC for organisation and hospitality. Following Sunday's sculling event the final round will be a sweep-oared event over a 300 metre course starting at 12 noon. Presentation of trophies to the league winners will be after the conclusion of the day's racing around 4pm with a BBQ to follow. All club members and supporters are welcome to attend.
The Explore Series is predominantly for novice, recreational, retired and returning rowers. It is the brainchild of James Andrews of British Rowing and takes place using stable coxed quads and fours. The first series took place in 2012. Originally known as the Sunday League it has developed as a result of pioneering work in the Northern region and is now recognised by all regions, with equivalent leagues in place nationwide. See the history page for more about events from previous years.