Durham ARC entered 3 crews for the 25km Great Tyne Row on Saturday August 27th, a popular annual challenge for stable and coastal boats, launching from Tyne  United Rowing Club at Newburn and finishing beyond the ferry terminal at North Shields with crews continuing onwards to land on Tynemouth beach at Prior's Haven.
Twenty-six boats entered this year, down on last year's 40. DARC crews included a women's 4+ (DARC Blues Sisters) consisting of Ray Dominy, Steph Snowball, Vicky Jackson and Debbie Connolly coxed by Shona Miller, a mixed quad (Rose among thorns) comprising Paul Rutter, Sarah Rutter, Gabrielle Moore, Alison Shepherd and Kalpana Ganatra, and an open quad (Wear Still Here) including Colin Lawson, Dave Green, Stephen Auster, Chris Merchant and Vaughan Gordon. The latter 2 exchanged coxes mid-stream to share the duties.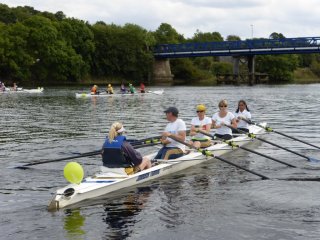 The row is typified by challenging conditions for crossing Tynemouth harbour but this year departed from the norm with sunshine and relatively calm conditions at the mouth of the Tyne but with a headwind causing much rougher water along the route.
All participants relished the challenge and enjoyed the burger and Northumbrian Blonde provided on the beach by the co-hosts Tynemouth Rowing Club after the finish. DARC Blues Sisters won the pennant for Best Dressed Crew, finishing in a time of 2hrs 11mns. Rose Among Thorns came 5th in 2hrs 03min and Wear Still Here finished in 2hrs 09min.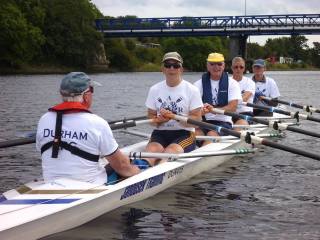 Full results and award winners