Durham ARC members gathered last week to send their best wishes to the GB Women's Eight ahead of their departure for the Rio Olympics which get underway on August 5th. Included in the 8 is one of our home grown athletes Jess Eddie. Now 31 and from Durham Jess will be taking part in her third Olympics.
She went to St Leonard's School in Durham and took up rowing at the age of eight, also playing netball and rugby as a youngster. Her first competitive win came in the 1995 Durham Vets and Juniors Regatta.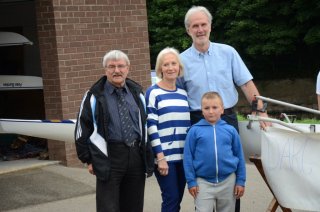 After joining the DARC Juniors wins at Durham Regatta followed, firstly in 1998 in a double with her sister Alexandra. Jess soon became established in the GB Junior squad, representing Great Britain in the GB v France match in 2000 and at the World Junior Championships in 2001.
She was a bronze medallist in the women's pair in the 2003 Under-23 World Championships before joining the Senior eight, rowing at the 2008 Beijing and 2012 London Olympics, finishing 5th on each occasion.
In 2013 DARC named a lightweight eight 'Jessica Eddie' in her honour, which she officially launched in October of that year.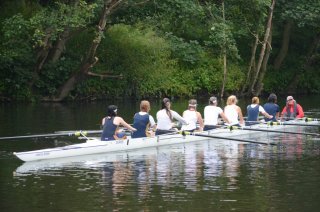 Earlier this year Jess helped to secure an eye-catching gold for the GB eight at the European Championships in Brandenburg, with GB surging through to take victory in a perfectly-judged race. Another thrilling finish at the Lucerne World Cup saw the eight narrowly losing out to the World and Olympic Champions from the United States.
Members of DARC's women's squad joined Jess's parents Stewart and Nora and her former coach Gordon Beattie for a press conference, holding up a banner in support of their 'Northern Star' before launching Jessica Eddie on the water.
Ladies captain Gabrielle Moore said "Jess is a home-grown Durham girl who went through DARC as a junior and is off to her third Olympics so we want to wish her well. She's been a long-time supporter of the club and we're all very proud of her."
Jess continues to support the club and helps with fundraising for new equipment.
We wish every success to the GB squad in their quest for glory in Rio.