On Thursday July 14th the club hosted a group of 35 from NRS Media who were taking part in a corporate event organised by Team Arena.
Participants were divided into 4 teams and assigned in turn to land-based challenges while remaining teams were given rowing tuition in stable fours by the club's volunteer coaches assisted by members of the daytime rowers. Challenges included a 2000 metre timed ergo relay and a 'cross that gap' exercise involving crossing a divide using planks without touching the ground and liberating a ping-pong ball from a cylinder using buckets of water, with the outcome determined by the number of team members successfully completing each element of the task.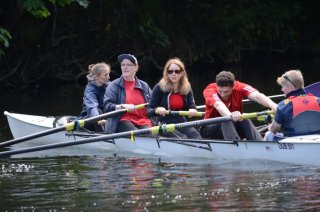 After a short break for a buffet lunch the morning tuition was put to the test with a timed obstacle course with representatives from each of the 4 teams rowing round a buoyed course on the river with placings determined by the time over 2 rounds, with time penalties for any transgressions of the rules.
The red team was declared the winner and the day concluded with a post event BBQ.
If your company would like to take part in something similar Team Arena will be pleased to tailor an event to meet your needs.
More photos of the day