Round 3 of the 2016 Explore Series (the competition aimed at the novice and 'recreational' end of the spectrum and until last year known as the Sunday League) took place at Tees Rowing Club on May 1st. This was the dreaded but highly anticipated annual test of sculling skills which had seen the 3 Durham ARC crews practising intensely throughout April. Each competing crew is allowed to nominate up to 6 members over the course of the season to allow for unavailability over the 8 monthly rounds.
Tees RC President Kate O'Sullivan welcomed contestants representing 8 different clubs from across the north of England, ranging geographically from Berwick to Windermere, and emphasised the success of the Explore Series, now in its fifth year and acclaimed nationwide, having been pioneered by British Rowing and the Northern Rowing Council in 2012.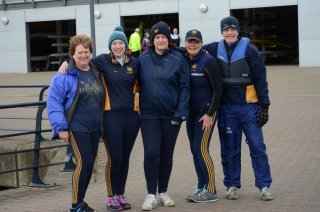 Skills included cornering, spinning, square blade sculling, backing on to a buoy, emergency stop, oar swapping and blade slapping, carried out against the clock in stable quads over a 1km circuit with coxing ability also being put to the test in the blustery conditions. After bumper entries in the two previous rounds, side by side racing at Tyne United in March and Hexham in April, entries on the Bank Holiday weekend were down to 7 Open and 7 Women's.
Efforts were richly rewarded with Darc Green (pictured top) securing first place and 4 points in the Women's league closely followed by Wear Here in second place. In the Open competition Wear Past It demonstrated that they aren't by taking second place only 17 seconds behind the Tees men's crew who continue to be invincible at the skills course on their home water. The day proved to be the best return of points per entry for DARC in any single round since the competition was introduced.
Competition was fierce with Wear Here only holding off Hexham to retain second place by one second after incurring a time penalty in the second of their two attempts at the course, combined times deciding the outcome. Times and placings for the day are here.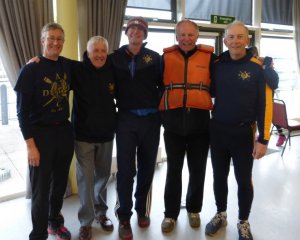 Coxing of Darc Green (Linda Forwood, Jan Halford, Kate Wicks and Paddy Deans) was provided by Caroline Scholl, and John Lyons coxed Wear Here (Leigh Bowron, Jane Auster, Lesley Wilkinson and Sue Lyons), while Steve Auster took time out from rowing in the crew himself to cox Wear Past It (Colin Lawson, Vaughan Gordon, Chris Merchant and Dave Green).
This leaves the two DARC Women's crews in joint first place in the overall league table on 9 points, while Wear Past It rise to 3rd with 5 points in the Open table. The two other Darc entries in the Series, Darc Demons and Darc Jags were unavailable for the Tees round.
More photos here.
Crews can now look forward to a first visit to Berwick for round 4 on June 5th.