At a presentation on September 13th at Durham Amateur Rowing Club four members of the club handed over funds raised in memory of former rowing coach Bill Grant who died in February after suffering a medical episode that led to him falling from his bicycle into the River Wear in Durham whilst coaching a crew from the bank.
Funds were raised as a result of a 1000 mile cycle ride from Land's End to John O'Groats, completed in August, and also from the Sunday of Durham City Regatta held as a tribute to Bill earlier in the year. The rowers completed the ride in 12 days, arriving in John O'Groats on August 1st after covering up to 115 miles a day.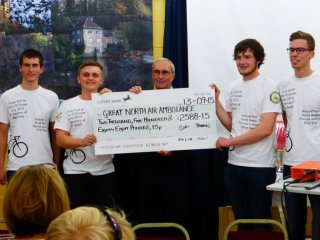 The four, David Beeby, Michael Hall, Thomas Jackson and Elliot Kay, presented a cheque for £2588 to David Henderson of the Great North Air Ambulance Service, and another cheque for £2000 to Durham Amateur Rowing Club which was gratefully accepted on behalf of the club by Mark Bell.
The Great North Air Ambulance came to Bill's aid following his accident and airlifted him to hospital within an hour of the incident, but sadly he passed away a short time later in hospital.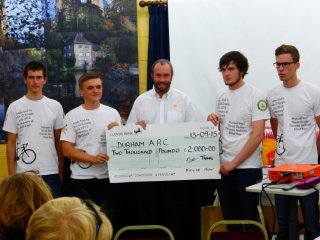 The club intends to put the donation towards the purchase of much needed equipment.
At the same presentation the club also accepted the gift of Bill's single sculling boat, kindly donated by members of his family who attended the ceremony along with many members of the rowing club. The boat was named in Bill's memory by his widow Jenny Grant.