The local regatta season got underway on Saturday April 18th with the first event taking place over a 750 metre course on the River Wear at Chester-le-Street Amateur Rowing Club. This year's Chester-le-Street Regatta attracted 304 entries from around 20 different rowing clubs with races commencing at 8.30am and continuing at 2-minute intervals throughout the day.
DARC entered 17 crews and scullers and secured 5 victories, the Women's J13 and J14 4x+, the Women's Masters D 4x+ crew (pictured) of Claire Staines, Nicola Field, Angela Purvis and Sarah Wheater, coxed by Lynn Pain, the Open Masters D 4+ of Stephen Kay, Martyn Calkin, John Liddell, Rob Coe and cox Maddy McCarthy (below), and Andy Jaggard in the Masters F 1x. One of the most keenly contested races was the Senior Club Mixed Eights in which DARC won through 3 rounds before losing out in the final against Queen Elizabeth High School.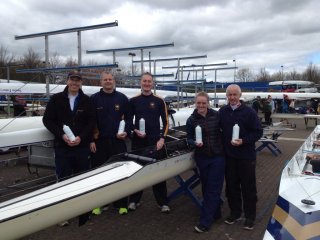 This was the first of 7 annual club regattas in the northern region, the next one,
Durham City Regatta
, takes place over 2 days at Durham Amateur Rowing Club on Saturday 9th and Sunday 10th May, followed by events at Tees, Wansbeck, Hexham and Tyne before the season's finale at Talkin Tarn on July 4th.
This year the Saturday of Durham City Regatta will follow the standard format with races in all categories taking place over a 700 metre course, while the Sunday will be a Bill Grant Memorial event in aid of the North East Air Ambulance. Sunday racing will include Durham College Rowing Challenge Eights, and Durham City Scratch Eights and Quads, all over a 500 metre course. Other fundraising events including an ergo challenge and dragonboating will also be available.
Full results from Chester-le-Street