J18's win GOLD at National Junior Championships
At the National Junior Rowing Championships of Great Britain on 19th and 20th July 2014, held at the National Watersports Centre in Nottingham, Durham Amateur Rowing Club Junior Boys under 18 eight beat off competition from all the Thames-based clubs, to take the GOLD MEDAL in the Blue Riband event of the Championships.
The crew of Richard Matthewson, James Snowball, Elliott Kay, Jacob Lutz-Nattrass , Jamie Patterson, Matthew Abbiss, Thomas Jackson, and Cameron Cutts, steered by Elise Sanderson are coached by Bill Parker and Alan Granlund, and train on the River Wear in Durham.
Junior organiser and coach, Alan Granlund described how the same boys also attempted a double with the eight splitting into two fours for the J18 fours event only a short time after the eights final.
"They finished a close and creditable 4th and 6th, just out of the medals – the eights race having taken its toll on their energy. This is a record for the Club, having never won an eights event at the Championships. It is now a double success for the Junior Squad and the culmination of a JUNIOR GOLDEN YEAR"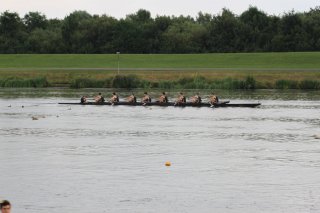 Earlier in the year the Club's Junior under 16 eight took GOLD at the National Schools Championships, and Bronze at the Junior Inter-Regional Championships. And Aidan Rushforth also took GOLD at the Junior Inter-Regional event. Aidan was also competing at the National Championships, with over 40 entries in his event, he narrowly missed a medal, and finished a well deserved 4th.
The Club's Junior Coaching Team are delighted with the Year's successes, a total of 75 events won all over the Country, as well as Scotland, and are looking to continue this run of success in 2015.
Congratulations from all at the Club, to the Junior Coaches, and to the whole of the Junior squad on their amazing achievements this year.