DURHAM REGATTA 14th and 15th June 2014  – Record entry and new-look Championship events
picture courtesy of Alan Sharp
Coming soon – RACING NEWS – DARC AT DURHAM – GET YOUR RACE STORY TO ajaggard@btinternet.com NOW for inclusion ..
The 181st Corepeople Durham Regatta was another resounding success with superb racing and enjoyment all round. The weather was mixed with some grey skies, but with some beautiful afternoon and early evening sunshine on the Saturday. And the large crowds of spectators enjoyed, perhaps the best ever, range of bank side entertainments – brass bands and all kinds of music, a classic car rally, bungee runs, climbing wall, drumming workshops, arts and crafts, trade stands, and of course, food stalls, and Pimms marquees. Whilst the weather did not match last year's hot and sunny conditions, the cooler and calm conditions were ideal for racing.
picture courtesy of Alan Sharp
RECORD ENTRY and THE 'ARMY' OF VOLUNTEERS Crews came form all over the Country, the farthest being Bristol, Bath, Chester, Lancaster, Edinburgh, and Stirling.
Richard Mortimer, Entries secretary said, "There's clearly a large influx of people coming into the sport. That creates challenges for event organisers as entry numbers grow, but it's hugely rewarding to see so many people enjoying themselves both on and off the water." The regatta is now so popular, that we had to turn away eighty crews ,that applied for entry, and we still had almost 700 crews racing. With this record entry, the schedule is demanding – races every two minutes from 8am in the morning till 7pm at night for 2 days. That would be difficult enough on a large expanse of water, but is tougher still on a narrow, winding river, with crews launching from all parts of the river.
Nigel van Zwanenberg, Chairman of the Durham Regatta commented, "I'm always amazed by just how many people contribute to making the regatta work so well – Army and Air cadets, Rowing club members, students from the University, members of the regatta from all walks of life, the umpires, and many more – and all are volunteers. We really are grateful to them and to all the competitors and supporters for making Durham regatta such a successful and friendly sporting event."
THE 'GRAND' The Grand Challenge Cup, the premier event over the iconic 'long course', is 160 years old this year. Appropriately, a Durham School crew who won The Grand as schoolboys 60 years ago in 1954, returned to commemorate Graham Whitaker, the cox of the crew, , who sadly died last year. Graham's daughter, Helen, coxed the crew, when they had an outing on Sunday morning, launching from DurhamSchool boathouse and rowing around the Prebends bridge area of the river.
picture courtesy of Colin Lawson
The Grand this year was contested between DurhamUniversity and NewcastleUniversity. The verdict from a seasoned rowing coach, "Newcastle were large" (the stature of basketball players) and, "a class act". The other verdict, Championship Coxed Fours for The Grand Challenge Cup was won by NewcastleUniversity beating DurhamUniversity by 6 boat lengths.
NEW 'CHAMPIONSHIP' EVENTS' New this year, were the 'Championship events' for the 'high performance' rowers. The crews are time trialled over the course, and then as a result allocated to 'A', 'B', or 'C' Championship events. There was some initial bemusement about quite what was going on, but the real benefit came when we saw the racing in the knock-out championships. With crews 'seeded' on time, we enjoyed close and exciting racing in many events – sculls, doubles, fours, eights. Multi-lane racing at national and inter-national events may be seen as the pinnacle of many rowers ambitions, but the 'gladiatorial' contest at Durham, between two top-class eights, thundering down the narrow course, bow-ball to bow-ball, is a sight to behold.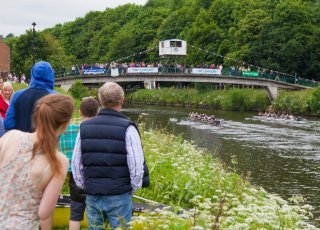 picture courtesy of Alan Sharp
Championship Eights for the Reverend C J Saunders Trophy was won by DurhamUniversity.
The beauty of Durham Regatta is that it's not just about the high performance rowers. It's also a great experience for many novice rowers, some whom may only have been rowing a few months, having their moment in the limelight. It can be both a daunting and exhilarating experience, and one they won't quickly forget. All of the Novice fours events were hotly contested with winners including DurhamUniversity, StephensonCollege, YorkUniversity, and St. Chads College.
Returning also this year was a Para rowing event, contested by two Tees scullers and won by Lathan.
And there was a novel sight when two 'gigs' raced down the course. These brightly painted sea-going rowing boats were built over the winter, as community projects at Gosforth and Byker.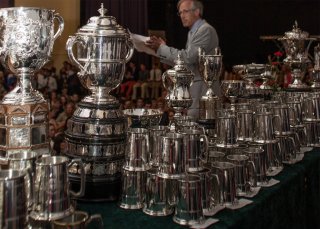 picture courtesy of Alan Sharp
"What a great couple of days", said Nigel van Zwanenberg, "really high quality racing and huge enjoyment for everyone on the banks on the Wear. Durham regatta has such a long history but it's terrific to see us looking to the future with the new development of Championship racing and with Para rowing now a regular feature of the programme."
NEXT YEAR AND THE SEARCH FOR THE WATERLOO MEN The origins of Durham Regatta are closely tied with the commemorations to honour the "glorious victory" at the Battle of Waterloo in 1815. There is some certainty that a parade of boats took place in the years preceding the founding of the regatta in 1834. There were firework displays and regatta balls at the City's Assembly Rooms. Events also included 'the firing of cannons' and ' a substantial supper with a plentiful supply of strong ale and punch for the Waterloo men.'
Next year we plan to commemorate the two hundredth anniversary of the Battle of Waterloo and Durham regatta's special links with it. The search for the Waterloo men' and their descendents will be a major project for the Regatta throughout the year … and when we find them we intend to repeat the hospitality offered to them in the 1830's.  …
so if you have a family story of a relative who survived Waterloo or the Peninsular war and mustered with 'other brave fellows' on the banks of the Wear to display their banner and fire off cannons each June – please let us know www.durham-regatta.org.uk