Durham ARC Senior Men Win The Metropolitan Cup at Dorney Lake.
Last weekend the Durham ARC senior men's squad travelled down to Dorney
Lake in Eton (home of the Rowing events at the 2012 Olympic games) to
compete at one of the most prestigious events in the rowing calendar-
the Metropolitan Regatta. This was the first time in many years that a
senior crew from the club has attempted to compete at the "Met" and the
crew did not disappoint, winning one of the most coveted trophies – the
154 year old Metropolitan Cup. This win represents a massive step
forward for the crew, which has qualification for Henley Royal Regatta
in it's sights.
The crews was as follows.
Bow: John Roxborough
2: James Dickinson
3: Mike Veldman
4: Alex Willen
5: Alex Higgs
6: Matt Hunt
7: Harry Shepherd
Str: Danny McCarron
Cox: Becks Palmer from Tideway Scullers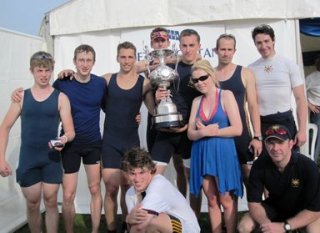 The Senior men would like to thank their coaches Bill Pollard(pictured), Kim Metcalfe, Jed Gargan and Phill Tully.