After the completion of 4 of the 6 rounds of the 2019 Northern Rowing Autumn Series uptake for both the Long Distance Sculling Series (LDS) and associated Small Boats Heads (SBH) has been enthusiastic, with entries for the competitions at Tees, Tyne, Wansbeck and Durham being suspended early when safety limits were reached soon after opening. Interest has been well distributed and good support has come from the region's clubs, schools, colleges and Universities.
Durham ARC has been represented at each event, with 23 entries at South Hylton LDS on October 5th, 6 for Tees LDS and 4 for Tees SBH on October 12th, 13 for Tyne LDS and 7 for Tyne United SBH on October 18th, and 2 at Berwick LDS on October 26th.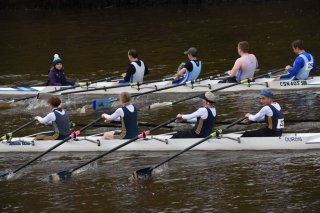 There will be no Victor Ludorum award in the LDS Series this year but DARC has already enjoyed notable success for Juniors, Seniors and Masters, with wins coming at South Hylton for the J17 girls 4x- (Ella Sampson, Ella Metcalfe, Nathalie Einbeck and Madalyn Elmer), Jacob Windle in the J16 boys 1x, Jennifer Napora in the J15 girls 1x, Women's 4x+ and Masters E 2x. Further wins went to the Women's Masters D 4x- (Clare Woodward, Aisling Dutton, Gabrielle Moore and Susan Jackson) at Tees LDS and to the Women's Masters G 4x- (Lynn Pain, Hazel Stainforth, Carolyn Edwards and Caroline Scholl) at Tees and Tyne LDS, while at Tyne LDS there were wins for Jacob Windle in the J16 boys 1x, Tilly Stoddart in the J15 girls 1x, and Paul Rutter and David Heppell in the Masters E 2x.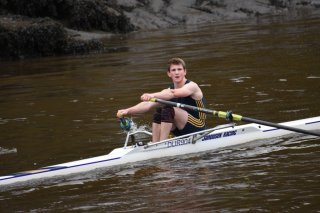 The Senior Men's 4x- stroked by Nicholas Baird were winners at Tees LDS, 2
nd
at Tyne LDS and 3
rd
at South Hylton, while the Senior Women stroked by Emily Grant finished 2
nd
in the W4x- at Tees SBH and 2
nd
in band 1 of the W4x- at Tyne United SBH. There was also a 2
nd
place finish in band 2 of the W4x- and a 3
rd
place in the W4+ for the senior women at Tyne United SBH.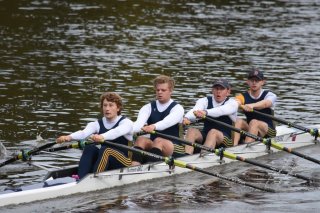 The only victory at Tees SBH went to the Masters development 4+ (John Liddell, Tom Dower, Alastair Edge, Arthur Glasfeld and cox Clive Hole), Arthur Glasfeld's first competitive outing for the club and a rare success in the coxes seat for 79 year-old Clive Hole.
After their win at Berwick the Masters E 2x of Paul Rutter and David Heppell (above) leads the way in terms of the series with 3 wins and a second place, followed by Lynn Pain, Hazel Stainforth, Carolyn Edwards and Caroline Scholl with 2 wins and a second in the Women's Masters G 4x-, and Jacob Windle with 2 wins from 2 starts in the J16 1x.
Results from each round are accessible from the LDS web page.
The start order for Wansbeck LDS and SBH on November 2nd is now available and the 6-week series culminates with Durham LDS and Autumn Small Boats Head being contested over 1800 metres on the River Wear on Saturday November 9th.
Early suspension of entries is a recurring theme this autumn with the Fullers Head of the River Fours and Veteran Fours Head on the Tideway on November 23rd and 24th both becoming oversubscribed soon after opening, giving competition organisers food for thought. Conversely the Head of the Don, scheduled for October 5th, was cancelled because of insufficient entries.
Tickets for £2 are still available for the Bonfire, Fireworks and Boat Burning Party on Sunday, after which we look forward to good conditions and a full days racing on November 9th.