Two months after the British Rowing Junior Championships the J14 girls have at last received the medals they won for the double sculls omnium.
The Chairman of the BR Junior Championships, Chris Callow, travelled up to Durham from Bedford last week to present Libby Morris and Tilly Stoddart with the bronze medals they won at Nottingham in July, one of two won by the squad coached by Cathy Rooney – a remarkable achievement for the J14s in winning 2 of the Northern region's 5 medals at the Championships.
The competition took place on Friday July 19th when the J14 girls entered in two coxed quads, one a composite with Chester-le-Street ARC, consisting of Libby Morris, Jennifer Napora, Amy Snook (CLS), Orlagh Windle and cox Francesca Suggett, and the other a Tyne ARC/Durham composite including Tilly Stoddart.
The rules of the competition require competitors in the 4x+ to also enter for an omnium in either single or double sculls. A busy day therefore started with a time trial for the quads to determine who qualified for the finals, scheduled to take place after the omnium. The DARC/CLS quad was 4th fastest in the time trial and qualified for the A final, while the Tyne/DARC crew went into the B final.
After the time trial came skills tests, including hands off at the catch, standing 360 degree turn in a boat, standing rigger dips, back down stop and 360 degree boat spinning, followed by a 500m sprint, slalom and emergency stop to finish off the omnium. Libby and Tilly completed the omnium in a 2x while the other girls did it in singles.
The day rounded off with the finals of the coxed quads, in which the first of the bronze medals went to the DARC/CLS combination who took third place in the A final, while the Tyne/DARC composite finished 6th in the B final. Medals were presented to crews on the Friday night.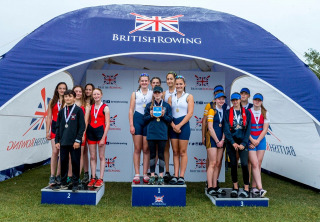 Medals were also at stake in the omnium where the Durham girls did tremendously well to finish 3
rd
out of 67 competitors from all over the country, scoring 940.2 out of a possible 1000 points. Because of the complexity of the scoring system the
results
weren't available until the following day so competitors who had gone home were left waiting for their medals.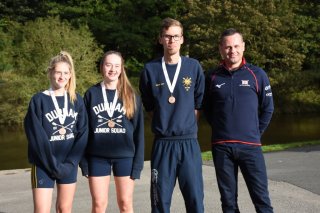 Omnium skills have been a feature of the Championship for J14s for the past 4 years. Presenting the medals to Libby and Tilly, Chris observed that "it's important to master the skills first". Although coach Cathy was unable to be there Elliot Kay was pleased to accept a medal on her behalf.