On May 5th the third round of the Sunday League visited British Rowing's northern outpost at Berwick-on-Tweed, taking in the small clubhouse with its particularly scenic location overlooking the Tweed estuary and the Royal Border Bridge.
Eleven teams from the northern region joined one from Sheffield RC for a series of races in stable quads over a 200m course. DARC was represented by Close Encounters, a mixed crew taking part in the open league. Margaret, Maureen, Colin, Andrew and cox Caroline won 2 of their races to retain third place in the league.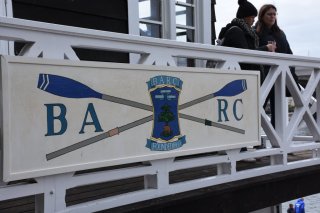 The competition, now in its 8th season, is aimed at novice and recreational rowers and retired racers. Entry fees are very reasonable and boats are provided by the host club. All those taking part enjoy the challenge of racing but the main focus is on the camaraderie and social side of the event and the opportunity it provides to go to places that it would otherwise not be possible to visit.
The fourth round on June 2nd is the most exciting of the year with boating from the beach at Tynemouth. New teams are always welcome. Details of how to enter are on the Northern Rowing website.