The annual British Rowing Tour took place over the weekend of August 31st to September 2nd 2018. Being the 25th tour gave added cause for celebration for all those taking part, none more so than John and Caroline Turnbull from Weyfarers RC, chair and secretary of BR's Recreational Rowing Committee, who first took on responsibility for organizing the tour in 1994. As in 1994 the 2018 tour took place on the scenic reaches of the River Thames, this time between Bablock Hythe and Mapledurham, passing through Clifton Hampden (above) and Oxford along the way, and visiting the boathouses of Oxford University. A list of previous routes can be found here.
Touring takes place in stable recreational boats and is safe and straightforward but involves learning some specialist techniques, such as those for passing through locks. Weyfarers have produced some useful guidance.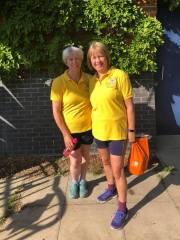 Among the hundred or so taking part in 20 coxed quads were Linda Forwood and Julie Kitson from DARC who joined rowers from Tyne United and Leeds RC, covering around 25km per day for the three day paddle, with 13 locks to negotiate. Other participating clubs included Nottingham, Broxbourne and Maidstone Invicta.
Funding for eight of the boats used was provided by Charles Stanley Wealth Management with whom British Rowing secured a 3-year sponsorship deal for Recreational Rowing in March.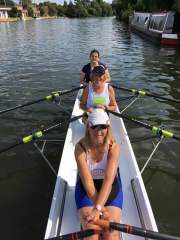 Julie was also fundraising for
The Seashell Trust
, a national charity supporting children and young adults with complex learning disabilities.
Tourers were accommodated at a hotel in Oxford and enjoyed a gala dinner at St. John's College on Saturday night.
Touring can easily become addictive. Linda is already planning to visit Lithuania for next year's BR European Tour. To find out more about the work of the Recreational Rowing Committee including details of forthcoming tours and events in the UK and overseas see the Recreational Rowing website.