Durham ARC sent a sizeable contingent to Strathclyde Park Regatta over the weekend of April 28th and 29th and returned with a good haul of medals.
Following the postponement of Chester-le-Street Regatta this was the first event of the season for many, a multi-lane regatta (2000 metres for juniors and seniors and 1000 metres for masters), which also incorporated the Scottish Student Rowing Championships. The venue has added significance this year as the rowing events at the inaugural European Championships in Glasgow will be staged there on August 2nd to 5th.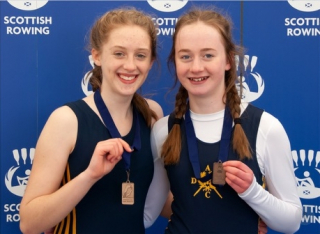 From 12 entries on Saturday there were two wins, two second places and 3 third places. The first places went to the J15 coxed quad (Thomas Taylor, Ben Brown, Dom Crilley and Matthew Harrison, coxed by Emily Shaw from St Leonard's), and the WJ13 double of Libby Morris and Tilly Stoddard (left). DARC finished 2nd and 3rd in the Masters D/E double sculls, and there were also third place finishes for the J18 coxless quad and the WJ14 coxed quad.
Sunday produced one win and three second places from five entries, the win going to Kim Forster and David Muse (above) in the Open Masters B Restricted2 double sculls, and following Kim's 2nd place in the Women's Masters C single on Saturday and David's 2nd in the Masters B single on Sunday rounded off a particularly successful weekend. Other 2nd places went to George Adair, Gerry Sharpe, Michael Seed and David Oliver in the Masters F coxless quad, and to the Open Restricted1 coxless quad (Can Evirgen, Mert Evirgen, Will Hamlyn and Reece Stockport).
Summary of Saturday results –
J18 2x 2nd in heat, 5th in final
J18 4x- 3rd
J15 4x+ 1st
WJ14 4x+ (A) 2nd in heat, 3rd in final
WJ14 4x+ (B) 4th in heat
WJ13 2x 1st
Open 4x- 5th
WRes1 4x- 6th
WMasC 1x 2nd
MasD 2x 2nd
MasE 2x 3rd
MasF 4+ 4th
Summary of Sunday results –
MasB 1x 2nd
Open MasB Res2 2x 1st
Open MasF 4x- 2nd
Open Res1 4x- 2nd
WJ18 2- 7th
Full results are available in a spreadsheet