With less than two months to go until the 185th Durham Regatta it's time to reflect on some of the Club's past glories.
In its early years Durham Amateur Rowing Club had considerable success at winning Durham Regatta's most prestigious trophy, the Grand Challenge Cup for coxed fours, the first victory coming in 1863 for the crew of W.Brignall, W.H.Hedley, C.Rowlandson, P.Forster and cox E.H.Dykes. This was only 3 years after the club's formation in 1860 (see Club History Timeline). Ten more victories followed in the years up to 1901, and 4 more between the Wars.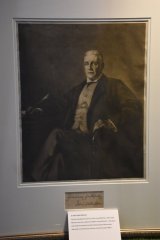 Durham ARC also won the
Wharton Challenge Cup
(now known as the Durham Challenge Cup) in the first 5 years following its inception in 1877, the first victory going to E.A.Lowe, L.Ward, A.Ward, S.F.Prest and cox G.F.Bell. At this time John Lloyd Wharton, whose portrait (left) is on display at
Wharton Park
, and after whose uncle William Lloyd Wharton the trophy was named, was Club President, a position he held from 1861 to 1894.
The Wharton Challenge Cup went to R.R.Powney, J.W.Walton, J.Hopper and R.Powney, coxed by W.E.Coldicot in 1928 and 1929.
Another double success was to come twenty years later for the post-war four of R.Layfield, J.H.McGregor, J.W.Golightly, P.H.Mills and cox R.E.Brown, winning in 1948 and defending the trophy successfully in 1949.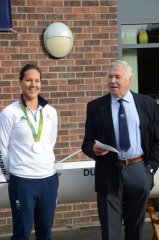 The best run of success was the nine consecutive wins in the Grand Challenge Cup between 1955 and 1963. Current Club President Ian Shepherd (pictured with Jess Eddie after winning an Olympic silver medal with the GB women's 8+ in 2016) was involved in eight of these, starting with the 1956 victory. His predecessor as President, Bill Parker, was in the crew for five of the wins, and Keith Yates who has been the commentator at Durham Regatta since 1976, coxed the crew to victory on five occasions between 1958 and 1962. The same crew also secured the Wharton Challenge Cup eight times during this period, with the combination of F.Weatherley, W.T.Parker, I.C.Shepherd, H.Smith and cox K.J.Yates winning both trophies three times in succession between 1960 and 1962.
The club's most recent win in the Wharton Challenge Cup was by R.H.F.Metcalfe, R.G.Oates, R.A.Longhurst, J.R.Appleby and cox A.G.Bailes in 1969.
In total DARC has won the Wharton Challenge Cup 37 times and the Grand Challenge Cup thirty times, the most recent being the 1992 Grand win by G.Wilson, K.Oates, M.Terry , R.Bodsworth and cox Toni Spoors.
The 2018 Durham Regatta takes place on June 9th and 10th.
Durham ARC winners of the Grand Challenge Cup are as follows –
1863 W.Brignall, W.H.Hedley, C.Rowlandson, P.Forster, cox E.H.Dykes
1866 C.Barnes, C.Rowlandson, P.Forster, J.H.Robson, cox A.H.Barnes
1867 C.W.S.Henderson, C.Rowlandson, W.BrignaLL, c.Barnes, cox A.H.Barnes
1879 J.P.Lumsden, W.Crozier, A.Hutchinson, S.F.Prest, cox C.E.Heavisides
1880 J.P.Lumsden, W.Crozier, A.Ward, S.F.Prest, cox C.E.Heavisides
1884 J.Crozier, T.Rickerby, G.Bulman, E.White, cox J.Newby
1885 J.Crozier, T.Rickerby, G.Bulman, E.White, cox J.Newby
1886 J.Parkinson, T.Rickerby, J.Johnson, F.Salkeld, cox S.Salkeld
1888 A.Morgan , E.Bulman, H.Rule, E.White, cox S.Salkeld.
1891 C.Brown, J.Sarsfield, F.A.Bulman, E.White, cox R.Grant
1901 R.Benson, C.S.Young, R.H.D.Thompson, M.Muirfield, cox R.Greenwell
1928 R.R.Powney, J.W.Walton, J.Hopper, R.Powney, cox W.E.Coldicot.
1929 R.R.Powney, J.W.Walton, J.Hopper, R.Powney, cox W.E.Coldicot.
1930 R.Longstaff, R.Powney, J.Hopper, Alex McLaren. Cox W.E.Coldicot.
1933 H.W.Peele, R.Peele, J.Hopper, A. McLaren, cox E.A.Nelson
1948 R.Layfield, J.H.McGregor, J.W.Golightly, P.H.Mills , cox R.E.Brown
1949 R.Layfield, J.H.McGregor, J.W.Golightly, P.H.Mills , cox R.E.Brown
1953 M.Turner, A.Beecroft, H.Smith, J.H.McGregor, cox B.Thompson
1955 H.Middlemas, J.M.Thornton, M.Turner, P.H.Mills, cox J.Biglands
1956 F.Weatherley, J.M.Thornton, I.C.Shepherd, P.H.Mills, cox I.S.Curry
1957 F.Weatherley, H.Smith, I.C.Shepherd, P.H.Mills, cox I.S.Curry
1958 F.Weatherley, W.T.Parker, I.C.Shepherd, P.H.Mills, cox K.J.Yates
1959 F.Weatherley, M.Turner, I.C.Shepherd, H.Smith, cox K.J.Yates
1960 F.Weatherley, W.T.Parker, I.C.Shepherd, H.Smith, cox K.J.Yates.
1961 F.Weatherley, W.T.Parker, I.C.Shepherd, H.Smith, cox K.J.Yates
1962 F.Weatherley, W.T.Parker, I.C.Shepherd, H.Smith, cox K.J.Yates
1963 W.T.Parker, D.Fawcett, I.C.Shepherd, H.Smith, cox A.Pinder
1969 R.H.F.Metcalfe, R.G.Oates, R.A.Longhurst, J.R.Appleby, cox A.G.Bailes
1980 J.Ringer, P.Rutter, A.Duncan, D.Turnbull, cox T.Maddison
1992 G.Wilson, K.Oates, M.Terry , R.Bodsworth, cox Toni Spoors
Durham ARC winners of the Wharton Challenge Cup are as follows –
1877 E.A.Lowe, L.Ward, A.Ward, S.F.Prest, cox G.F.Bell
1878 P.B.Junor, L.Ward, A.Ward, S.F.Prest, cox C.E.Heaviside
1879 J.P.Lumsden, W.Crozier, A.Hutchinson, S.F.Prest, cox C.E.Heavisides
1880 J.P.Lumsden, W.Crozier, A.Ward, S.F.Prest, cox C.E.Heavisides
1881 J.P.Lumsden, W.Crozier, F.Stobart, S.F.Prest, cox C.E.Heavisides
1883 G.F.Bell, J.C.Crozier, G.Bulman, E.White, cox C.L.Armstrong
1884 J.Crozier, T.Rickerby, G.Bulman, E.White, cox J.Newby
1885 J.Crozier, T.Rickerby, G.Bulman, E.White, cox J.Newby
1886 J.Parkinson, T.Rickerby, J.Johnson, F.Salkeld, cox S.Salkeld
1888 A.Morgan , E.Bulman, H.Rule, E.White, cox S.Salkeld.
1890 C.Elliott, E.H.Bulman, F.A.Bulman, E.White, cox E.Cowell
1891 C.Brown, J.Sarsfield, F.A.Bulman, E.White, cox R.Grant
1897 A.W.Mirfield, H.Peele, T.Hutchinson, H.Fawcus, cox H.Weatherall
1900 A.P.Hough, R.C.Cumberlege, H.Peele, E.H.Veitch, cox G.Patrick.
1903 R.Hill, F.McBride, L.Mackay, G.R.Mackay, cox A.S.Coxon
1904 W.D.Lowe, A.M.Hutchinson, A.A.Wilson, F.Bell, cox A.Stainsby
1905 R.Hill, W.Coulson, L.Mackay, H.Liddle, cox A.S.Coxon.
1913 W.Rushworth, C.H.Pickworth, R.Levitt, R.W.G.Mitham, cox W.Wood
1923 J.Veitch, W.Skipsey, A.D.Calvert, G.R.Herbert, cox H.W.Coyne.
1928 R.R.Powney, J.W.Walton, J.Hopper, R.Powney, cox W.E.Coldicot.
1929 R.R.Powney, J.W.Walton, J.Hopper, R.Powney, cox W.E.Coldicot.
1930 R.Longstaff, R.Powney, J.Hopper, Alex McLaren. Cox W.E.Coldicot.
1931 R.Longstaff, S.Pearson, J.Hopper, R.Powney, cox G.Greenwell.
1933 H.W.Peele, R.Peele, J.Hopper, A. McLaren, cox E.A.Nelson
1935 G.Blagdon, W.R.Martin, C.A.Riley, L.Shaw, cox R.Nelson.
1948 R.Layfield, J.H.McGregor, J.W.Golightly, P.H.Mills , cox R.E.Brown
1949 R.Layfield, J.H.McGregor, J.W.Golightly, P.H.Mills , cox R.E.Brown
1953 M.Turner, A.Beecroft, H.Smith, J.H.McGregor, cox B.Thompson
1955 H.Middlemas, J.M.Thornton, M.Turner, P.H.Mills, cox J.Biglands
1956 F.Weatherley, J.M.Thornton, I.C.Shepherd, P.H.Mills, cox I.S.Curry
1957 F.Weatherley, H.Smith, I.C.Shepherd, P.H.Mills, cox I.S.Curry
1959 F.Weatherley, M.Turner, I.C.Shepherd, H.Smith, cox K.J.Yates
1960 F.Weatherley, W.T.Parker, I.C.Shepherd, H.Smith, cox K.J.Yates.
1961 F.Weatherley, W.T.Parker, I.C.Shepherd, H.Smith, cox K.J.Yates
1962 F.Weatherley, W.T.Parker, I.C.Shepherd, H.Smith, cox K.J.Yates
1963 W.T.Parker, D.Fawcett, I.C.Shepherd, H.Smith, cox A.Pinder
1969 R.H.F.Metcalfe, R.G.Oates, R.A.Longhurst, J.R.Appleby, cox A.G.Bailes