Durham ARC entered 13 crews for Rutherford Head, raced over two divisions on November 25th, and came away with successes for the Women's Masters E eight and the Masters C coxless quad, both winning in division 1 in entries of five and three respectively.
Rutherford Head traditionally marks the finish of the autumn season before crews regather in the New Year for the build-up to the Tideway Heads in March.
As a consequence of the BUCS Head being relocated to the Tyne for an initial 3-year period recent Heads have seen vastly increased interest from further afield. This year London University was the most successful club with wins in 9 events over the two divisions.
Founded in 1966 by the then Rutherford College (later to become Newcastle Polytechnic and later still Northumbria University), Rutherford Head is rowed over 4500 metres from Scotswood to Newburn and is the largest rowing event on the River Tyne with 250 entries this year, including 96 eights. Since 1977 it has been organised by Tyne ARC.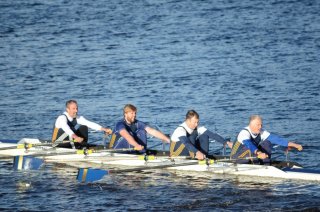 DARC's Masters C 4x- of John Lyons, Paul Rutter, Brad Knights and Richard Court was the best placed of the club's entries, finishing 33
rd
overall in division 1 in 19.25.1, defeating Tyne United and Talkin Tarn, while the Women's Masters E 8+ of Sarah Rutter, Ray Dominy, Hazel Stainforth, Gabrielle Moore, Susan Jackson, June Davison, Helen Adair and Christine Heppell, coxed by Nigel van Zwanenberg completed the course in 23.08.4 beating Cambois, Tyne ARC, a Tyne United composite and Auriol Kensington RC.
The J18 8+ finished 37
th
, placing them third of the J18s behind Queen Elizabeth High School and Yarm School, in 19.46.4, while the Women's 4x- was second in band 2 to Edinburgh University, finishing 61
st
in 22.07.8, one place ahead of DARC's mainly junior open 8+ who finished in 22.13.8. The women's coxed quad completed the course in 27.23.0.
The J18s entered a 4x- In division 2, this time finishing as the club's highest placed crew, 38th in 18.40.2. Two open coxless quads entered in band 3 and finished in 18.47.5 and 20.58.1, while the coxed quad finished in 20.02.5. The J18 girls 8+ was second of four entries in 21.43.3, just ahead of the Masters D 8+ in 21.48.0. The band 3 Women's 8+ raced against strong University opposition and completed the course in 22.26.6.
Final results with masters adjustments can be found on the Tyne ARC website.