After the July round was cut short by windy conditions on the Tyne, the sixth round of the Explore Series was back on track for the sixth round at Tynemouth on August 6th. The Tynemouth round is always one of the most eagerly anticipated of the season, with challenging conditions guaranteed. After last year's cancellation this year certainly lived up to expectations for the 14 crews taking over the 300 metre sprint along the harbour wall.
With some very close contests it was a good day for the 3 DARC crews, A Shot in the Darc and Wear Well Away both winning 3 races, and Green Shoots winning 2 as well as being involved in a dead heat.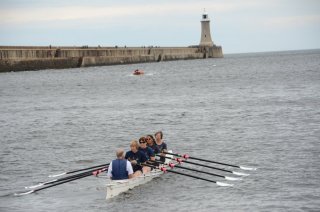 This took A Shot in the Darc (above) ahead of Wine on the Tyne (from Tyne ARC) to move into overall lead in the women's league with 36 points with their closest rivals now on 31. Green Shoots move ahead of Tynemouth into 5th on 19.5 points. Wear Well Away retain 2
nd
place in the open league on 34, two points behind Hextraordinary (Hexham RC), a healthy situation with two rounds remaining.
Tynemouth RC provided their usual excellent hospitality for crews and spectators, and the wet weather held off just long enough to complete all the races.
The next round is a sweep-oar splash & dash event at Chester-le-Street on September 10th.
League tables after round 6 – and Tynemouth results below