On Sunday July 30th eight members from Durham ARC enjoyed a day out a few miles downstream on the tidal reach of the River Wear, taking part in the third annual tour of the City of Sunderland. This is arranged by City of Sunderland Rowing Club with the support of the Northern Rowing Council and takes place in coxed stable boats as required by British Rowing.
Eleven boats took part from 6 clubs, starting and finishing at South Hylton and rowing 20km upstream past Cox Green to the Victoria Railway Viaduct and returning for some crew changes before continuing downstream to the Glass Centre and Port of Sunderland.
A new feature this year was the new Wear Crossing, under construction and scheduled to open in 2018. Other sights along the route include the Cretehauser, a concrete tug abandoned since 1942, the Shipwrights pub, Nissan factory, Washington Wetlands Centre, Hylton Bridge, Wearmouth Bridge and Rail Bridge, the Queen Alexandra Bridge, Stadium of Light and the University of Sunderland.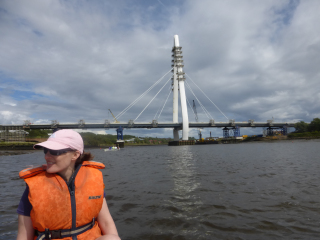 With fine if breezy conditions Kapana Ganatra, Chris Merchant, Caroline Scholl, Paddy Deans, Colin Lawson, Vaughan Gordon, Louise Forster and Steve Auster from DARC were joined by Josie and Victoria from Tees RC to provide sufficient rowers and coxes for DARC's 2 coxed quads to enjoy a lovely day. After landing and derigging we gathered with members from Sunderland, Gateshead, Tynemouth and Talkin Tarn for a BBQ provided by the host club.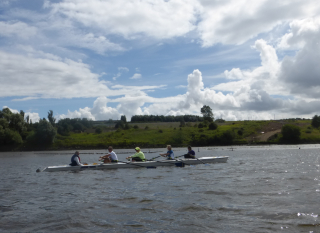 A reciprocal arrangement between daytime rowers from Tees and DARC has been in place for some time with regular
exchange visits
taking place over a number of years, the most recent visit being on July 20th when Tees visited for an outing and lunch. The clubs will also be sharing members for the row to Yarm in August and the Great Tyne Row in September.
Touring is very friendly and is promoted by British Rowing which provides online learning resources to help anyone who wants to organise a tour. BR's Recreational Rowing Committee supports several tours already and encourages clubs to organise more. Recreational rowing was in existence long before the concept of competitive rowing as a sport.
Al Johnston went along and has shared his usual collection of super photos.
Thanks to Caroline for organising crews, Vaughan for driving and towing the trailer, City of Sunderland Rowing Club for organising the event and everyone else who took part or contributed.