Contractors appointed by the Environment Agency were on site last weekend to effect a semi-permanent repair to the sluice gate at the Corn Mill which it is hoped means the weir will do its job as well as if not better than before. The river is therefore open for use again.
More good news is that the Council has completed the repairs to the riverbank following the landslip at Pelaw Wood in 2013 that led to the closure of the riverside footpath. The path is now open again with a new tarmac surface meaning that coaches will be able to go right up to the club on the far side of the river.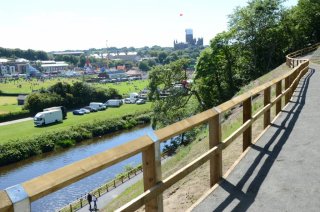 Two riverside paths form part of the National Cycle Network and the Weardale Way, linking the city centre and Old Durham. The reopening is in part thanks to the lobbying and peripheral work of volunteers from the
Friends of Pelaw Wood
.
The history of the restoration project is charted on the Durham County Council website.