Round 3 of the Explore Series took place on May 7th at Berwick, one of the most scenic of the locations visited by the popular competition for novice, recreational and returning rowers. An excellent entry of 19 crews gathered at the Berwick clubhouse in the shadow of the Royal Border Bridge and competition got underway an hour earlier than usual at 11am to make inroads into the 38 scheduled races before the tide turned.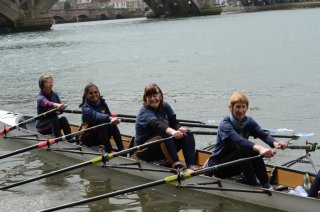 DARC entered 2 Open and 2 Women's crews. Wear Well Away (Colin Lawson, Vaughan Gordon, Chris Merchant and Steve Auster) were the most successful on the day winning all 4 of their races, and there were 2 wins apiece for A Shot in the Darc (Sonny Shepherd, Kalpana Ganatra, Sue Lyons and Margaret Richardson) and Cuthbert's Craft (Louise Forster, Matt Pallister, Geoff Raw and Stewart Allan), a mixed combination taking part in their first round of the series. Alison Hoare joined the Green Shoots team for the first time along with Paddy Deans, Maureen Miller and Linda James.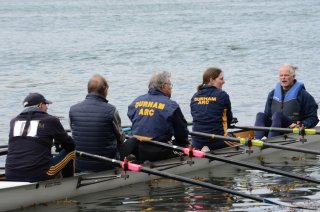 Two of the crews were coxed expertly by John Lyons, with Steve Auster, Louise Forster and Paddy Deans sharing coxing duties for the other two when not rowing themselves.
With 9 clubs from the northern region attending an enjoyable day was had by all. One of the benefits of the series is the social opportunities it provides. Excellent organisation and hospitality was provided by the volunteers from Berwick who took everything in their stride despite difficult boating conditions on the incoming tide.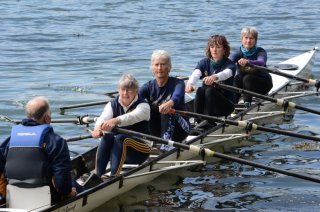 In the overall league table for Open crews after 3 rounds Wear Well Away move up to 4
th
on 18 points behind leaders Hexcellent from Hexham (21). In the Women's table Wine on the Tyne form Tyne ARC (21 points) leapfrog A Shot in the Darc (20) who are now in second place.
The annual sculling skills round at Tees Rowing Club is next on the agenda on June 4th.