The younger juniors went to Bradford Sprint Regatta on Saturday June 25th. With 18 different combinations of girls in doubles and quads taking part in a total of 8 events Mark, Debbie and Ray had an extremely busy day getting crews on and off the water. The older girls worked well organising themselves in rigging, warming up and helping each other with boating.
The J12 girls (pictured top) were taking part in their first regatta and their coxed quad (Sophie Miller, Holly Robson, Niamh Lang, Ruby Coe and cox Charlotte Payne) beat 2 boys quads to win the J12 4x+.
Meanwhile the J13 girls (Charlotte Payne, Zara Gilbert, Freya Court, Hope Simpson and cox Millie McIntyre) won the WJ13 4x+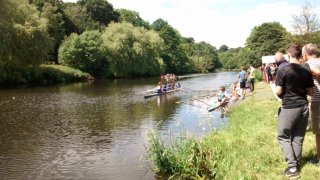 The J14 girls (Lottie Craven, Honor Cessford, Mollie Coe, Ellie Hall and cox Lily Sanderson) won rowing up an age group in WJ15 4x+.
The J15 girls (Abby Burke, Alannah Baldwin, Bethan Hall, Katie Strangward and cox Izzy Wilkinson), having spent most of the season taking part in sweep-oar events in which they had already de-noviced, were sculling this time, and also de-noviced in the Women's Novice quadruple sculls.
There were some excellent performances from all of the other girls who were entered in different quad and double combinations.  Despite the lightning and torrential downpour, which suspended racing for a while, it was a great event on a beautiful stretch of river.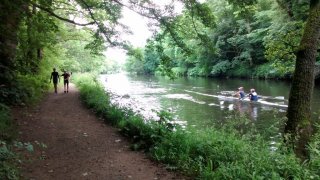 The Juniors have had a very successful season. Follow their progress by following Durham ARC on Instagram.