The Northern Explore Series, now in its fifth year, broke new ground on June 5th, visiting England's northernmost rowing club at Berwick-on-Tweed for the first time. Berwick acquired 2 stable boats last year, aptly named Royal Tweed and Royal Border, enabling them to host an event.
One of the features of the competition, for novice and recreational rowers, is the opportunity to visit new locations, particularly attractive to new recruits to the club and Learn to Row graduates. Berwick's clubhouse, featured on the cover of the June edition of Rowing & Regatta magazine, is pleasantly situated on the tidal estuary of the River Tweed in the shadow of the Royal Border Bridge. Sixteen teams took part with DARC providing two Open and two Women's crews, already well positioned on the leader board after the third of the 8 monthly rounds at Tees in May.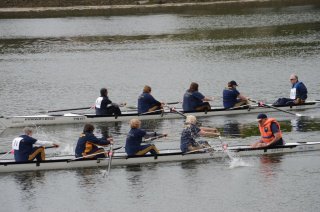 A series of side by side races took place over a short course against the incoming tide. The two Durham ARC women's crews were drawn against each other in their first race of the day, with DARC Green taking the honours against Wear Here to move into a single point lead in the overall league table with both teams winning the remainder of their races.
Wear Past It were one of 3 teams to secure 3 victories in the Open category, holding on to 3rd place in the overall table 2 points behind Chester-le-Street. DARC Jags picked up 2 points.
So far this year 31 teams from 11 different clubs have entered the competition with new teams and new competitors joining in each round. The next round takes place at Tynemouth on July 3rd. Photos from Northern Rowing demonstrate the sport's diverse appeal.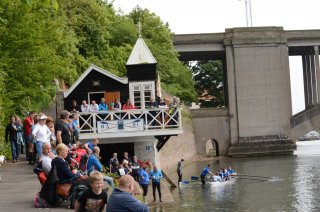 The
league table
and general information about the Explore Series can be found on the
Northern Rowing website
.