Durham ARC's Juniors squad had a successful weekend at Durham Regatta on June 11th and 12th, with wins in 4 events at the prestigious annual event.
On Saturday Aidan Rushforth continued his outstanding form, winning through 3 rounds to take victory in the J18 single sculls.
After their win the previous week at the Metropolitan Regatta at Eton Dorney Hope Cessford of Durham ARC and Lauren Irwin of Chester-le-Street ARC combined once more to take victory by a large margin against opposition from Durham University in the Women's Elite Pair, securing the Archibald Trophy.
The under-16 boys, Harry Coe, Josh Stephenson, Matthew Skinner and Matthew Edge, won the IM3 coxless quad sculls for the Wardman Yates Cup.
Two Durham ARC crews raced against one another in the final of the Women's J14 coxed quad sculls for the Arthur Stainsby Trophy, the victors being Lottie Craven, Honor Cessford, Mollie Coe and Ellie Hall, coxed by Lily Sanderson.
There was another victory for the Senior Women's crew of Fi Ashton, Heather Tosley, Claire Adams, Rebecca Thorne and cox Meghan McCarthy in the IM3 coxed quad on Sunday.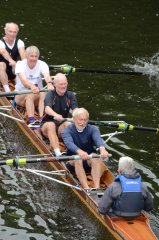 On Saturday John Appleby joined team mates from the
1966 Grand Challenge Cup
winning crew for a 50th anniversary row over the course before departing for Nottingham to join the DARC Masters eight racing at the
British Rowing Masters Championships
.
With many of the club's Masters competitors away in Nottingham over the weekend there were no Masters races scheduled at Durham, meaning that the remaining masters were up against stiff competition from much younger athletes.
Lists of trophy winners are on the Durham Regatta website
The weekend is organised entirely on a voluntary basis and with resources depleted this year the success of the regatta is testament to the outstanding efforts of the many volunteers.