March sees the culmination of the Heads season with the University Boat Races this year scheduled for Easter Sunday. Before that the Tideway welcomes rowers from across the UK and around the world whose season reaches its climax with one of the other annual Tideway Heads for Eights.
All of the above take place on the same 6.8km tidal reach of the River Thames in London between Mortlake and Putney, in the reverse direction to the University Boat Races.
The Junior Girls 8+ represented the club at the Women's Head in London on March 5th, finishing 73rd in a field of almost 300 crews of all ages, in a time of 21 mins 22 secs.

Rowing in Jessica Eddie they finished 11th in their category (School/Junior), a fantastic result, holding off all of the Durham University college crews as well as Yarm School, and finishing only 15 seconds behind the Durham University 2nd Eight.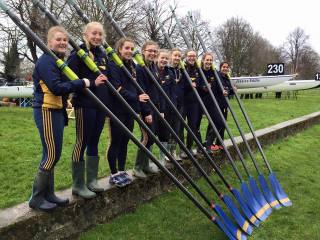 Crew member Olivia Brown tells the story of the day
On the 5th of March the junior girls eight made up of Ellen Blowey, Georgia Macmillan, Sarah Coleman, Charlotte Jackson, Hope Cessford, Corrine Hatton, Olivia Brown and Hannah Iqbal, along with cox Rebecca Jackson, travelled down to London to compete in our first women's head although having raced on several occasions at Schools Head we're no strangers to the Tideway. After a worrying 15 minutes of downpour the conditions brightened and we had a great row managing to finish an impressive 74th massively improving from our 234th starting place, with a time not far off our local rivals Durham University. Overall it was a great experience. We would all like to thank Fred, Gordon and Vicky for their coaching and support, not to mention Mark who entertained everybody with his plane spotting. It was a great days rowing with a great result.
Full results of WEHoRR
DARC's Masters G (age 65-69) men's 8+ took part in the Veterans' Head on March 20th, finishing 68th overall out of over 200 crews, and 4th in their category, in an age-adjusted time of 18 min 39.8 sec (unadjusted time 20.49.8), only 41 seconds behind the winning Masters G crew from Quintin BC
Full results of Veterans' Head
(Photo credit Clive Harlow)
On Easter Saturday we host the annual Boat Race Ball.