The weather held fair for round 7 of the Northern Sunday League, brought forward to the August Bank Holiday weekend to avoid a clash with the Great Tyne Row. With Durham's turn to stage the event also coinciding with British Rowing's Great British Rowfest week it was decided to offer a BBQ to competitors and spectators afterwards. This added to the enjoyment of the day for the 16 teams who entered, with Lakeland, Tynemouth and Sunderland Rowing Clubs sending crews to Durham for the first time and leaving with a favourable impression as well as a good haul of points. With replica leagues taking shape in the North West and West Midlands this form of competition is really gaining popularity. The previous week DARC had sent a team to Lakeland RC's first venture into hosting a Sunday League in the North West region at Windermere.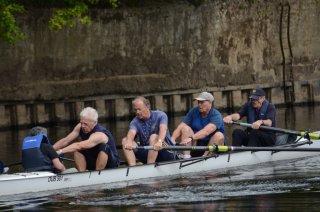 As usual the Durham round was a sweep-oared event in stable 4s for novices over a 300 metre course. DARC entered 2 Open and 3 Women's teams, with the Desperados (Colin Lawson, Vaughan Gordon, Kalpana Ganatra, Gerry King and Stephen Auster) putting in the best performance by winning 3 races, one of them against newcomers 'Tall Darc and Win Some' who lived up to their name and won 2 of their 4 races, a fine start for the crew of Alan Clark, Geoff Raw, Ken Gardner and Stewart Allan, with Brian Freeman coxing in the Sunday League for the first time.
The Women's crews were evenly matched, the Demons, Dippers and Darc Green each gaining one point.
A great effort by the staff and volunteers ensured a successful day with everyone going away happy. With little respite before the rearranged Talkin Tarn round on September 20th Tyne look unassailable in both Open and Women's categories, with DARC teams in contention for second spot.
Leading scores
Open –
Up Tyne Funk (Tyne) 19
Wearly Old Gits (Chester-le-Street) 11
Darc Desperados (Durham) 11
Tynetanic (Tyne) 11
Women –
Tyneapple Chunks (Tyne) 16
Darc Demons (Durham) 7
Hexie's Midnight Rowers (Hexham) 6
Great Hexpectations (Hexham) 6
Darc Dippers (Durham) 6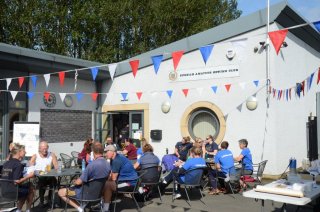 See Northern Rowing website for
overall scores
and more
photos
.