As well as the usual packed programme of competitive racing over the weekend of 13th/14th June this year's Durham Regatta will include special events to celebrate the bi-centenary of victory at the Battle of Waterloo and its links to the Regatta.
These will include a 1 hour celebration between 1.30 and 2.30pm on Saturday 13th June featuring events re-enacting races from the early regattas, including a race for coal trimmers, who used their trimming shovels as paddles and a nine-abreast skiffs race. DARC members have been digging out their best 'historic' kit and flocking in their droves to take part in these events!
Above photo – Jamie Brown who will play Harry Clasper in the one man show HADAWAY HARRY, written by Ed Waugh. HADAWAY HARRY will be shown at venues throughout the North-East in June and July. Ed and 'Harry' will both be at the regatta on Saturday 13th June.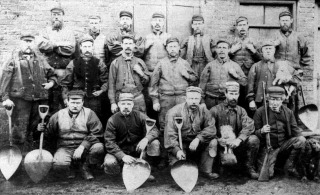 A procession of boats, commemorating the original Waterloo celebrations, will then parade down the river. The Atlantic boat of the
Row2Recovery
team, the regatta's 2015 charity partner, will row past and demonstrate the amazing achievements of their members. All this to the sound of the
Durham University Brass Band
playing rowing songs, culminating in the National Anthem, three cheers for the Duke of Wellington and Rule Britannia!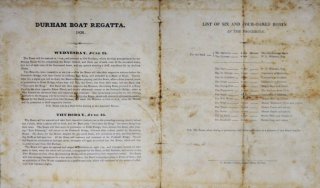 In line with these events visitors to the Regatta are invited to come along in fashionable dress from any era from the last 200 years. This is your chance to join our rowers, themselves decked out in historic rowing kit, and the
descendants
of the Durham Waterloo men in the procession of boats (please assure us that you can swim and will follow the guidance of the marshals)
We invite rowers and members of the public to come along to this year's WATERLOO regatta in either
historic rowing kit (your club's kit from a bygone era, or as any North-East rowing icon)
or high fashion from any era of the last 200 years
Winner and Runner-up prizes in each category
Those 'highly commended' will also be eligible to take part in the procession of boats