On May 4th, Bank Holiday Monday, DARC entertained British Rowing Chairman Annamarie Phelps as part of her tour of rowing clubs in the Northern Region prior to attending the launch at Derwenthaugh Marina of the St Ayles skiff 'Harry Clasper', built over the winter by members of the newly formed Gateshead Community Rowing Club. The visit was brief but she was impressed with what she saw of the river and facilities.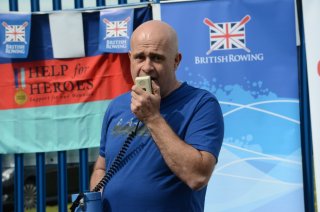 Gateshead Community Rowing Club was formed by DARC members Mick and Carol Downworth who learnt to row at DARC in 2012. In 2013 Carol attended the
British Rowing Para-Rowing Camp
and became the first to represent DARC in competition as a para athlete, being classified as LTA – visually impaired. Gateshead was affiliated to British Rowing in November 2014.
Mick is an outreach worker with Gateshead Veterans Hub and works with Help4Heroes and Row2Recovery, supporting military adaptive rowing. Row2Recovery has been chosen as Durham Regatta's charity partner for this year's event.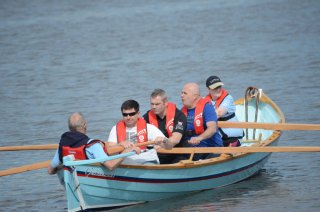 After the official launch by the Mayor of Gateshead Mick and fellow DARC member Mark Colman crewed Harry Clasper on her maiden voyage, where she was joined on the water by visiting skiffs from 6 other clubs who took part in a fun race under Scotswood Bridge and back. A quads race over the same course was followed by a 'have a go' session and presentation of medals to the winning crews by Annamarie Phelps.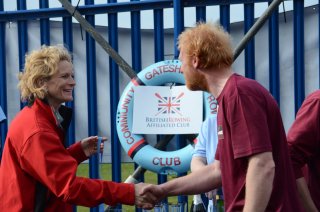 Harry Clasper (1812-1870) was a sporting icon on Tyneside long before football became the focus of attention, when sculling races on the Tyne for prize money attracted huge crowds, a legendary sculler and innovative boat builder. Born in Dunston he lived and worked for most of his life at Derwenthaugh and achieved notable success at Durham Regatta in its early years, with wins in 1841 and 1842. His life is remembered in a new play '
Hadaway Harry
' written by Ed Waugh.
Northern Rowing's photos from the launch are available here