On Tuesday April 28th the daytime rowers entertained a group of 6 recreational rowers from Nottingham Rowing Club, known as the Nottingham Explorers, who had asked to visit us. They are an expanding group of experienced tourers who have already rowed at exotic places such as Amsterdam and Venice and are always on the lookout for new and interesting locations to visit. Several of the group were combining the day with a longer stay to take in the attractions of the area. To make a day of it we invited some of our regular visitors from Hexham and Tees Rowing Clubs to join around 20 of the daytime rowers from Durham.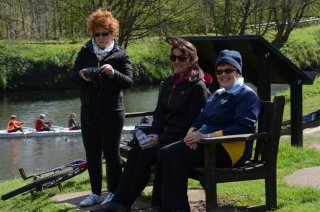 Sadly Tees couldn't make it but a group of 7 came from Hexham. Gerry put up the flags and bunting to celebrate a new venture in DARC hospitality.
Activities commenced around 10.30am with bacon butties and coffee in the bar, followed by a leisurely paddle in the 2 stable quads plus Roger Tarry, the 125 and Auntie Betty, to show our guests the river, before all returned for a sumptuous buffet lunch prepared by Gene, Debbie and Rita.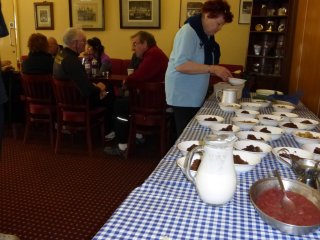 Numbers are difficult to assess as several people came and went throughout the day, but by the afternoon there were enough rowers, coxes and officials left to make up 5 crews to stage some fun races between the stable quads. Caroline organised the draw, with teams composed of randomly selected representatives of the 3 clubs, with everyone getting 3 races each. Although this was Nottingham's first ever experience of racing the outcome was very positive. Everyone had a great time before getting off the water at 3.30pm to round off the day with yet more coffee and cakes.
There are more photos of the day, a most convivial event, consolidating relations, boosting the coffers and whetting our appetite for further visits and tours.