Mick Downworth, of the Mens Development Squad, is an outreach worker for forces Veterans and their families in Gateshead. So, last thursday 28th November, Mick had arranged a day out, at the club, for this 'Gateshead Veterans Hub'.
Some of the veterans had suffered injuries and disabilities and have served in places such as Afghanistan, Iraq, Bosnia, Kosovo, Northern Ireland and the Falklands.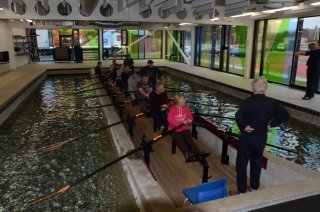 The twelve visitors enjoyed rowing in the tank at Maiden Castle, on the river in coxed quads, followed by tea, cakes and bacon butties in the clubhouse.
A huge thank you to all those who helped. Everyone had a fabulous day to remember.