D.A.R.C. crews were greeted by some shocking weather when they arrived on the Tyne, for the popular Rutherford Head on 30th November Instead of the apocryphal gale force winds, snow blizzards and 'sinking'  river conditions there was … a gentle breeze, sunshine, and a calm river.
Facing the shame of bar conversations that were less about, "arctic winds, exposure and frozen digits", and more about, "needing more sun block and a touch more lip balm", DARC rowers settled for racing the opposition rather than battling the conditions.
Yet again, the outstanding Juniors came up smelling of roses, (and a little bit of the Tyne). Alan Granlund writes: – "The WJ18 4x Lauren, Jessica, Carina and Katie beat a field of 5 crews by a convincing twenty seconds in their 'new' Sims 4x, beating many senior quads in the process. We had entered two eights from the Junior boys squad, but accident and injury reduced this to a J18 eight, in a strong field of eight crews. Our conglomerate Junior eight won, beating George Watsons College narrowly, by just three seconds – a great result. In Division two the girls J16 eight (in Jess Eddie) rowed in a strong WJ18 event . In a field of six J18 crews they finished a good second behind a crew of GB triallists, but well ahead of the remaining 4 crews. The MJ18 4+ despite a crew juggle due to illness won their event. Finally the Mj18 4x came a close second in a field of four – three wins and three second places, an excellent result all round.
The Masters Mens F four won their section in Division 1, as did the Mens F eight, in Division 2, with a comfortable victory over Tyne. And Gill Prescott won IM2 quad sculls with her Strathclyde composite.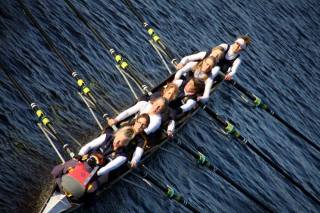 The emerging Womens Masters squad, fielded a relatively inexperienced, but strong, D eight. Facing a more seasoned composite crew of Tyne United, Tyne and Talkin Tarn, the result was always going to be close. And 1500 metres from the finish the winner was still in doubt. But after a controlled race, the DARC crew mounted a gutsy and determined challenge, in the closing stages, to pull back several lengths and record a 17 second victory.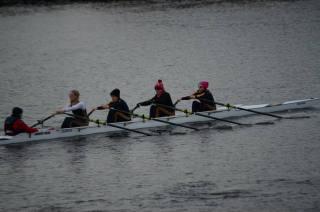 Not forgetting several first timers, in novice and development crews who braved the .. (this is where it all goes to rats) – completely BENIGN  conditions, and gained some valuable  experience.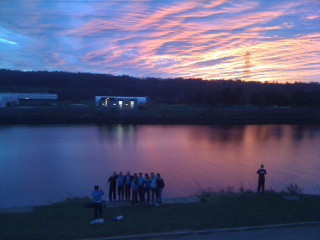 And so the sun set over the Tyne on a lovely day. Let's hope next year we can get back to normality, with some thoroughly miserable conditions.